Dallago and Windisch reign at home, French 1-2 in the Junior race
JUDENBURG (Austria), Feb 6 - Despite the world pandemic and the travel difficulties, riders from twelve countries took part in the second race of the 2020/21 ATSX Ice Cross World Championship in Judenburg, this Saturday in Austria.
On a very fast and technical combined Luge and Ice Cross course, local hero Marco Dallago repeated last year's victory, while fellow Austrian rider Veronika Windisch crowned her comeback after a long injury break with her first victory since 2017, ahead of French roller star Amandine Condroyer.
The biggest surprise came in the final of the Men's race when 2nd place, behind Marco Dallago, was taken by young Polish rider Lukasz Korzestanski, ranked 47th in the world. He managed to beat the other Dallago brother, Luca, currently placed 3rd in the ATSX World ranking.
The Junior competion was dominated by French riders, with three athletes in the final, and Arthur Richalet-Chaudeur, the current vice-World Champion, took his first win of the year, ahead of Leo Kelekis, back after a serious shoulder injury last winter on the same course in Judenburg, when last season opened.
Not only the strict Covid regulations but also the weather made the race difficult for athletes and organizers. Due to constant temperatures above zero degree the event took place at 7:30 on Saturday morning.
Another ATSX 250 event will be organized next week on the same Judenburg course, following the late cancellation of the French stop on the World Ice Cross calendar.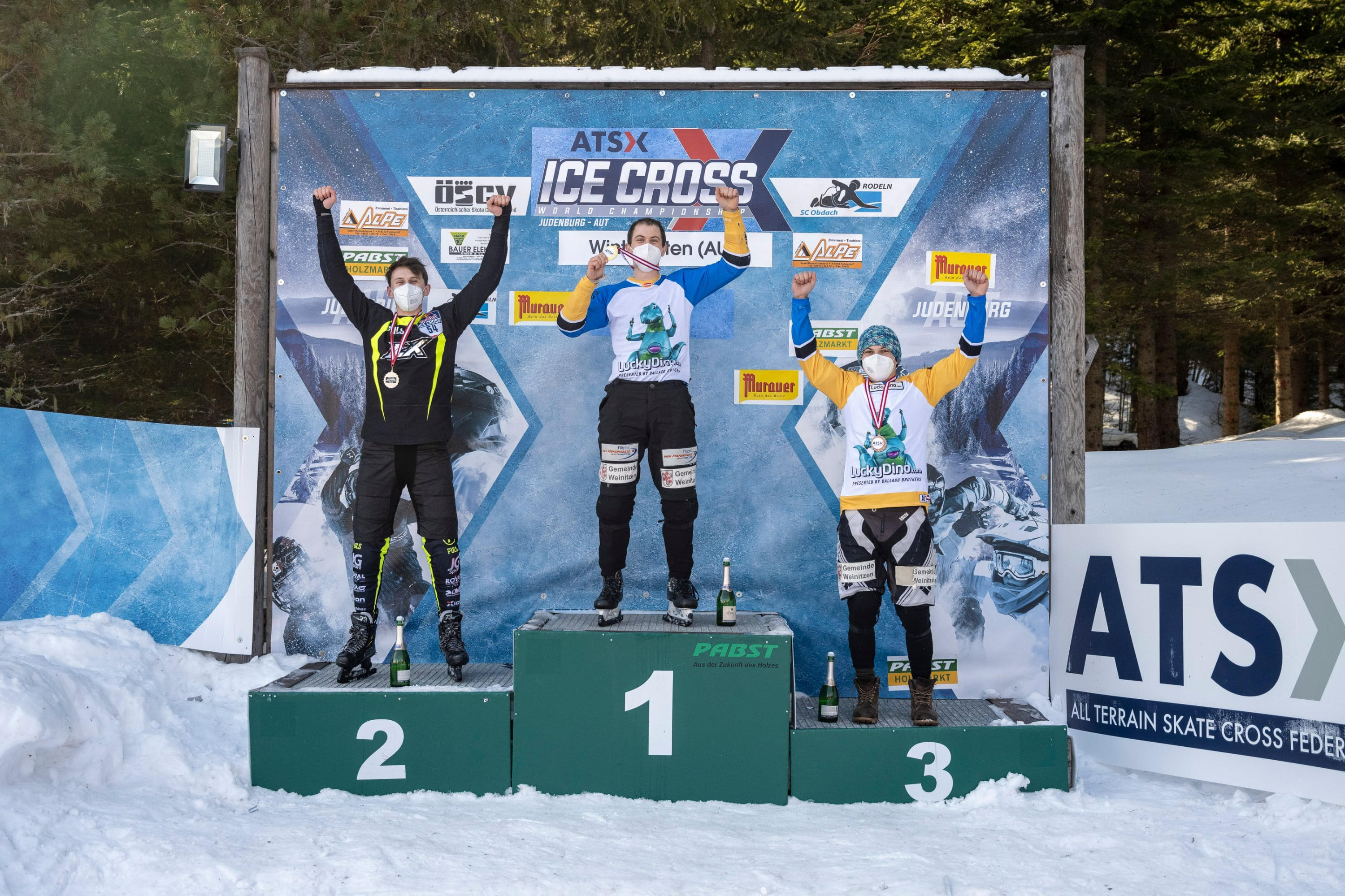 Marco Dallago stand on the top step of the podium for the first time in the 2021 Ice Cross season. Image: Joerg Mitter / Limex Images
Click here for a full gallery of images from the event.
Results
Men: 1. Marco Dallago (AUT), 2. Lukasz Korzestanki (POL), 3. Luca Dallago (AUT), 4. Michal Urban (CZE), 5. Tristan Dugerdil (FRA), 6. Jim De Paoli (SUI), 7. Kevin Sciboz (SUI), 8. Patrik Merz (SUI), 9. Luca Engler (GER), 10. Vaclav Kosnar (CZE);
Women: 1. Veronika Windisch (AUT), 2. Amandine Condroyer (FRA), 3. Alice Zenz (AUT), 4. Layat Jenna (SUI), 5. Karolina Pflugova (CZE);
Juniors: 1. Arthur Richalet-Chaudeur (FRA), 2. Leo Kelekis (FRA), 3. Julius Baecher (AUT), 4. Théo Richalet-Chaudeur (FRA), 5. Jakob Begander (AUT);
Free pictures for editorial usage: Joerg Mitter/ Limex Images