Urban and Windisch Win Opening Race in Judenburg
JUDENBURG, Austria - Czech routineer Michael Urban came out on top at the season opener in Judenburg on Sunday, winning an exciting final ahead of Great Britain's Robin Worling and local hero Luca Dallago. Reigning World Champion Veronika Windisch took the spoils in the women's final ahead of France's Amandine Condroyer and fellow Austrian Alice Zenz.
"I always loved the track here in Judenburg and I'm really happy to finally make it to the top of the podium here," said 30-year-old Urban following his victory.
For Worling, it was a career-best performance to take second place, with Dallago claiming the final position on the podium ahead of Czech Republic's Martin Nahlovksy. Former World Champion and homegrown hero Marco Dallago was unable to race due to a Covid infection detected the day before the final.
Despite the challenges presented by the current Covid situation, athletes from 18 nations made it to this opening race of the world's fastest sport on skates, including Luke Webb, who had to overcome several challenges at various borders during his 34-hour journey from Australia. His career-best 12th place finish was all the more satisfying after missing a whole season because of Australia's full lockdown in 2021.
In the women's race, Windisch led from start to finish to get her season off to a flying start. Behind her, Condroyer took a solid second place, while Zenz managed to claim the final spot on the podium after overtaking Canada's Clemence Renaud in the closing metres.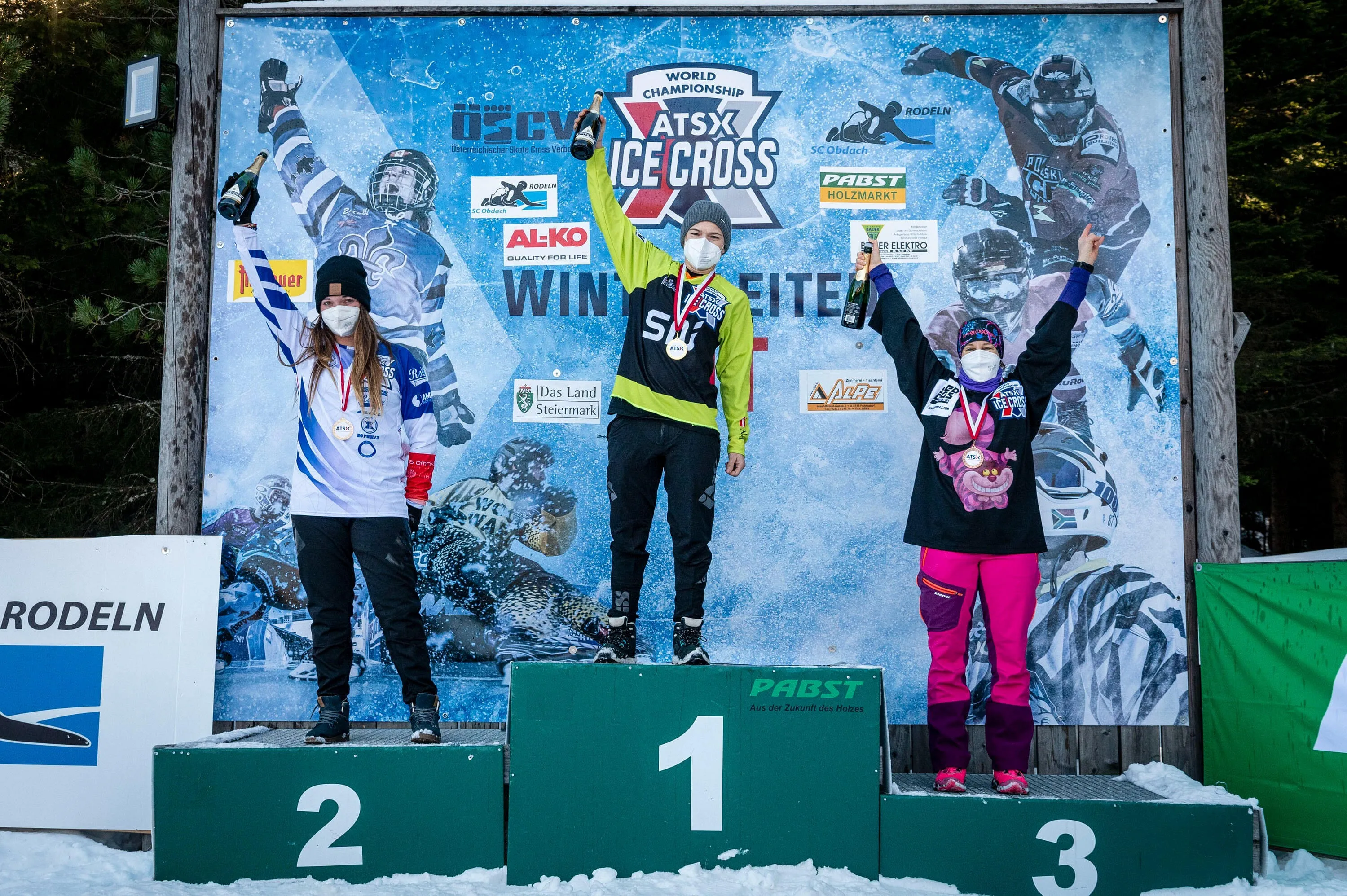 In the Junior race, Linus Ollikainen of Finland crossed the finish line first ahead of Austria's Jakob Begander and Arthur Fort of France.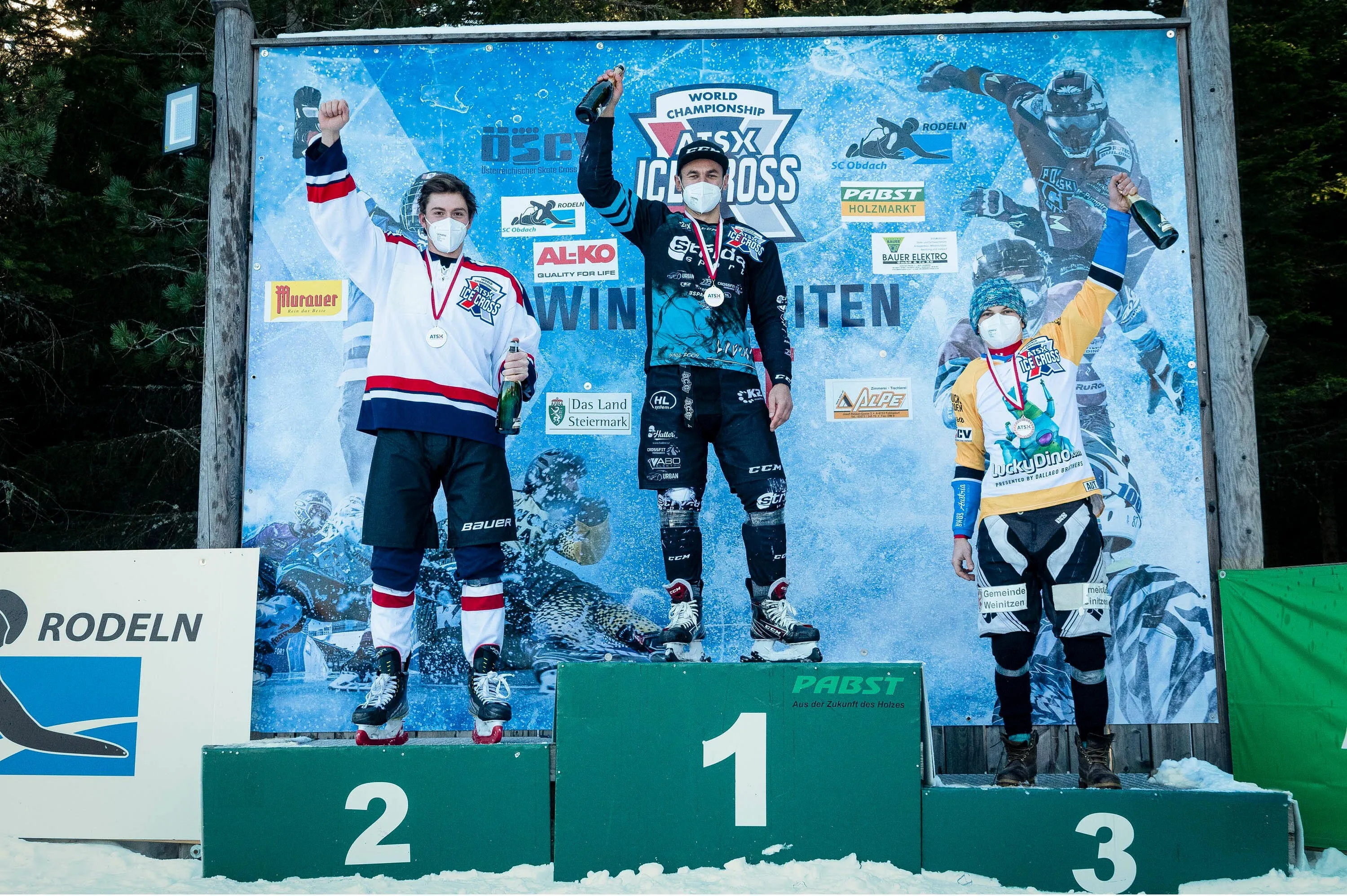 The permanent ice cross track in Winterleiten above the Styrian city of Judenburg will also play host to the second race of the World Championship this coming weekend.
Judenburg ATSX 250, Final results Men: 1. Michael Urban (CZE), 2. Robin Worling (GBR), 3. Luca Dallago (AUT), Martin Nahlovsky (CZE), 5. Luca Engler (GER), 6. Linus Ollikainen (FIN), 7. Kevin Sciboz (SUI), 8. Jakob Begander (AUT), 9. Lukasz Korzestanski (POL), 10. Michael Romano (CAN).
Judenburg ATSX 250, Final results Women: 1. Veronika Windisch (AUT), 2. Amandine Condroyer (FRA), 3. Alice Zenz (AUT), 4. Clemence Renaud (CAN), 5. Virginie Schneider (BEL).
Judenburg ATSX 500, Final results Juniors: 1. Linus Ollikainen (FIN), 2. Jakob Begander (AUT), 3. Arthur Fort (FRA), 4. Nikolas Begander (AUT), 5. Emerick Keller (FRA):
About Ice Cross
In Ice Cross races, fearless skaters hurtle down courses of up to 400 meters in length, filled with obstacles such as bumps, turns, hairpins and waves. The ice can be natural, in ski resorts, or artificial, at city centre locations. Riders go 4-at-a-time, at speeds of up to 80 km/h. The fastest two advance to the next round until there is a 4-rider final, in each category (Men, Women, Junior). Over the past two decades, 1,000 athletes from 51 countries and 5 continents have taken part in races that have become so popular that they draw enormous and enthusiastic crowds.
Photos by Mark Roe. Click here for more images.