World Champion Starts Season in Style by Winning in the French Alps
Reigning triple World Champion Cameron Naasz (USA) launched his 2020 winter campaign in style by winning the first ever Ice Cross event organized at an altitude of 2000 m, in Pra-Loup (Southern French Alps), ahead of Austrian Luca Dallago and Swiss rider Kilian Braun. In the women´s race, Jacqueline Légère (Canada), another World Champion, managed to beat both Amanda Trunzo (USA), the reigning World Champion, and the current World Number 1, Swiss skater Anaïs Morand.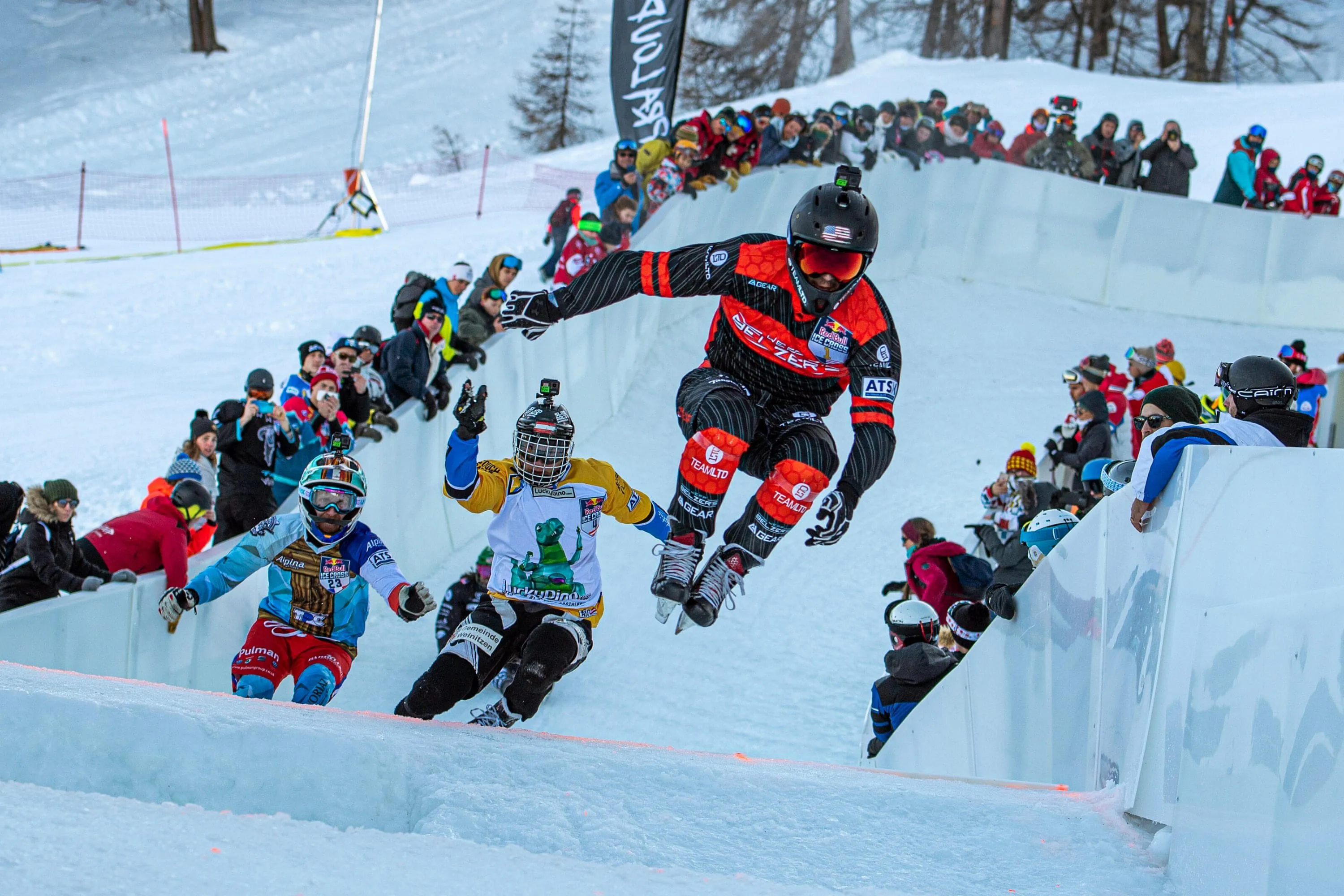 Cameron Naasz was flying in his first competition of the 2020 Red Bull Ice Cross World Championship Season. Image: Joerg Mitter / Red Bull Content Pool
This first ATSX 500 in Pra-Loup, and the first Ice Cross event in France since two Crashed Ice events in Marseilles, in 2017 and 2018, was a huge success, thanks to the patience of the 120 riders from 20 countries... and of hundreds of spectators who waited patiently for the finals: one strategic portion of the track had melted because of the incredibly warm weather, and the ice was too soft in the trickiest part of the course designed by French Ice Cross Champion Tristan Dugerdil.
The soft part of the track had to be covered by several plates of plexiglas. And as the sun was coming down on the Southern Alps, the track came back to life and all riders enjoyed the faster portions. 
"The organizers did a superb job, the ice was a bit too soft at the end but we managed to finish the program. I am very happy," Naasz summarized before climbing on the top spot of the podium installed in the finish area by the very efficient local team of snow patrollers.
The patient public was eventually rewarded by an amazing afternoon on skates, very intense finals and high-level performances by the best riders in the world.
The women's race was also a tight moment, with former World Champion Jacqueline Legere returning to her winning ways by beating both Trunzo and Morand, who were the clear favorites. The big surprise came from Russian veteran Victoria Senotrusova taking 4th place ahead of Austrian speed skater Veronika Windisch, who won the small final.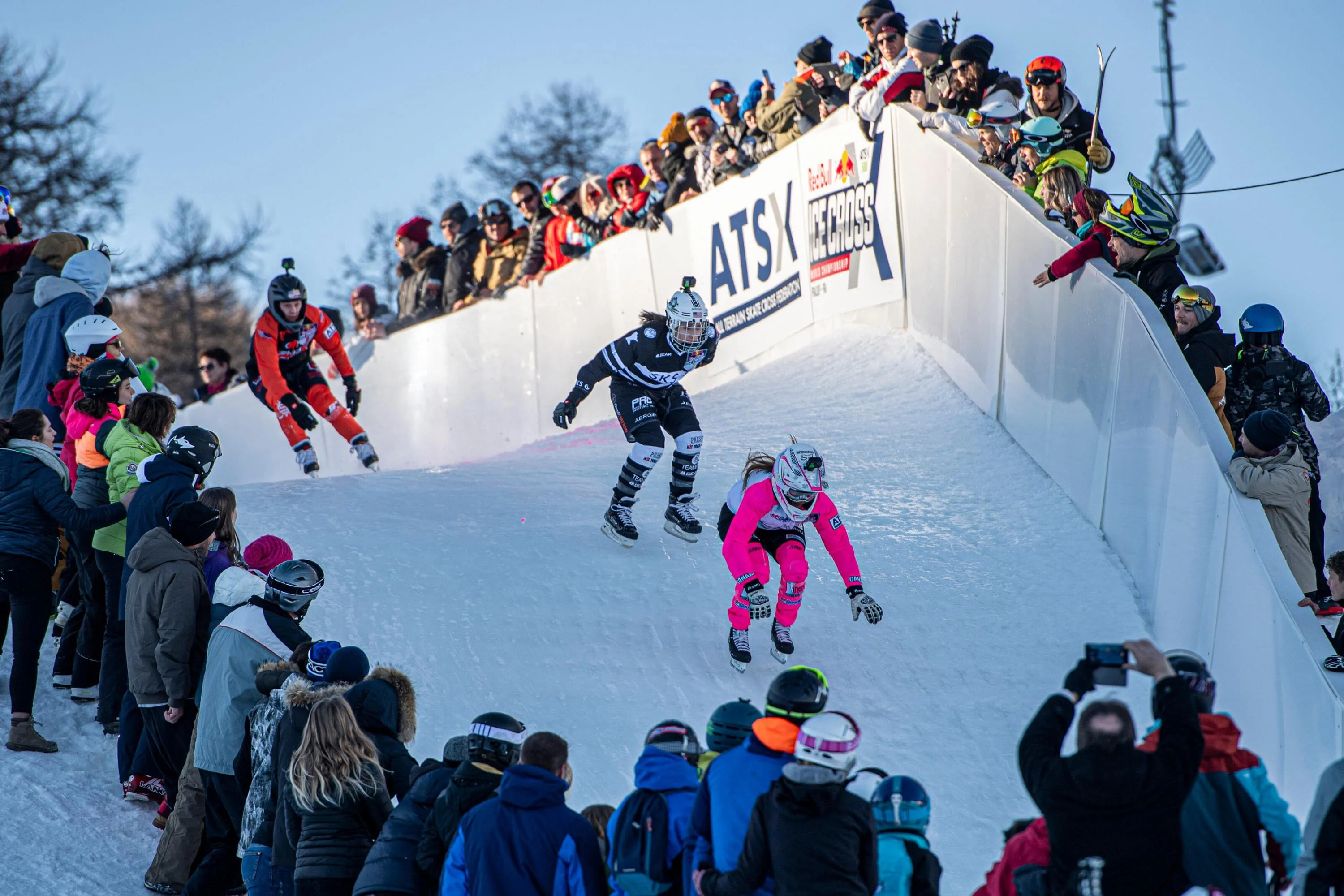 Jacqueline Legere leads Amanda Trunzo down a steep drop in the Pra-Loup track. Image: Joerg Mitter / Red Bull Content Pool
Last but not least, there was a double French conclusion to the whole event, when both Richalet-Chaudeur brothers climbed to the podium of the Junior category: Arthur (1st) ahead of Théo (3rd), along with Finnish sensation Leevi Nakari (2nd).
Highlights
Best Action
Mens Winning Run
Womens Winning Run
Juniors Winning Run
Results Men: 1. Cameron Naasz (USA), 2. Luca Dallago (AUT), 3. Kilian Braun (SUI), 4. Dmytriy Murlychkin (RUS), 5. Tristan Dugerdil (FRA), 6. Jack Schram (USA), 7. Florian Graf (AUT), 8. Leevi Nakari (FIN), 9. Denis Novoshilov (RUS), 10. Vaclav Kosnar (CZE). 
Women: 1. Jacqueline Legere (CAN), 2. Amanda Trunzo (USA), 3. Anais Morand (SUI), 4. Victoria Senotrusova (RUS), 5. Veronika Windisch (AUT), 6. Myriam Trepanier (CAN), 7. Tamara Meuwissen (USA), 8. Justine Zonne (LAT), 9. Malgorzata Synowiec (POL), 10. Amadine Condroyer (FRA).
Juniors: 1. Arthur Richalet-Chaudeur (FRA), 2. Leevi Nakari (FIN), 3. Theo Richalet-Chadeur (FRA), 4. Filipe Carvalheiro (SUI), 5. Vladimir Ivanov (RUS) , 6. Elias Vauhkonen (FIN), 7. Guillaume Libert (FRA), 8. Egor Tutarikov (RUS), 9. Valtteri Vauhkonen (FIN), 10. Justine Zonne (LAT);
For more images from the event, visit the gallery.

Additional images and videos are available for download and free for editorial use at www.redbullicecrossnewsroom.com.
Images: Joerg Mitter / Red Bull Content Pool