Victorious Naasz happy to return to Mont-du-Lac, Updated Season Calendar
Three-time world champion Cameron Naasz is returning to the US this week, fresh off a victory in Pra-Loup (Southern French Alps) last Saturday, for the one and only American stop in Mont du Lac, Wisconsin on the calendar of the Red Bull Ice Cross World Championship.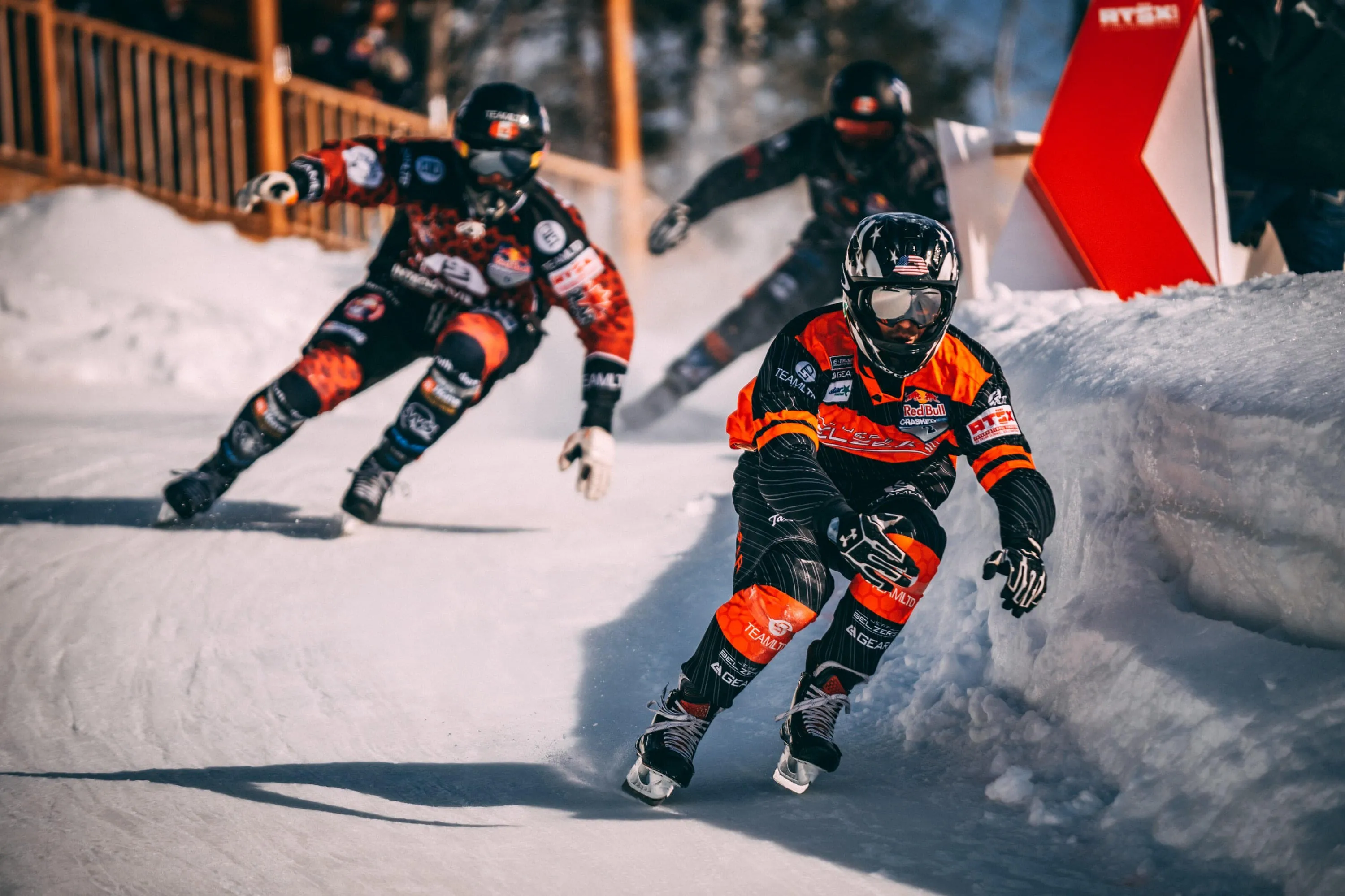 Cameron Naasz will be looking to repeat his 2019 win at Mont du Lac. Image: Bogdan Kosanovic / Red Bull Content Pool
On the women's side, Anaïs Morand was dominant in Austria but beaten by Jacqueline Legere in France, while reigning champion Amanda Trunzo took the 450 points for 2nd place twice in a row. Now positions are tighter than ever at the top of the world rankings before the third race this Saturday for another exciting ATSX 500 event.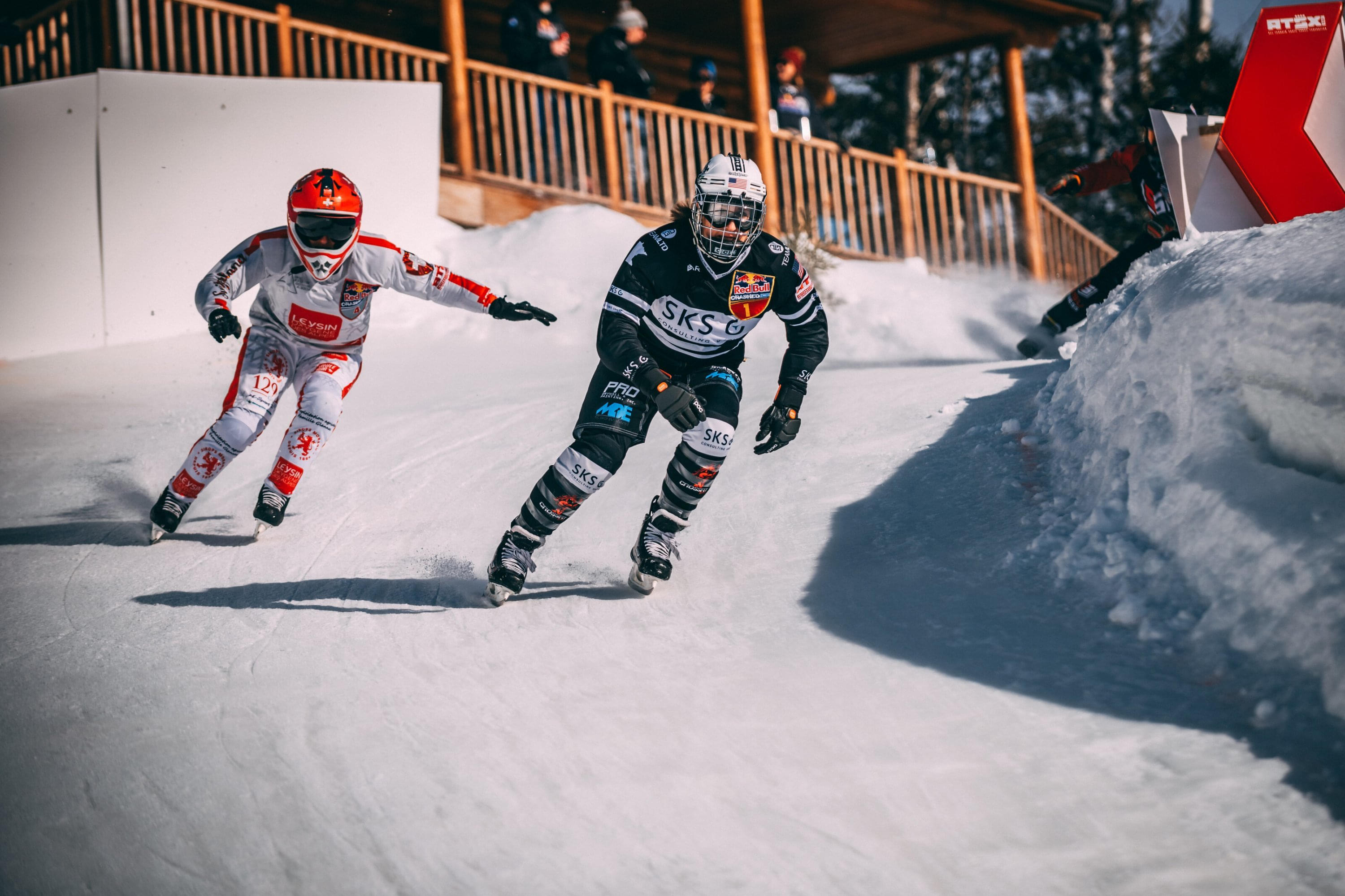 Will Amanda Trunzo and Anaïs Morand return to the podium in USA? Image: Bogdan Kosanovic / Red Bull Content Pool
Naasz and Trunzo will be the home favourites looking to repeat their victories from last year on the familiar Mont-du-Lac ice en route to another world title. However, their numerous rivals are ready to battle, including the emerging Russian contingent of riders, a growing force in global Ice Cross, whose ambassadors in the US will be Dmytriy Murlychkin and Egor Tutarikov.
On the entry list packed with North-American riders, one cannot help but notice that former World Champion Kyle Croxall (Canada) will be making his return to the Ice Cross circuit after missing Judenburg and Pra-Loup, as will US rising star Jojo Velasquez, the 2019 Junior World Champion, in the Men category.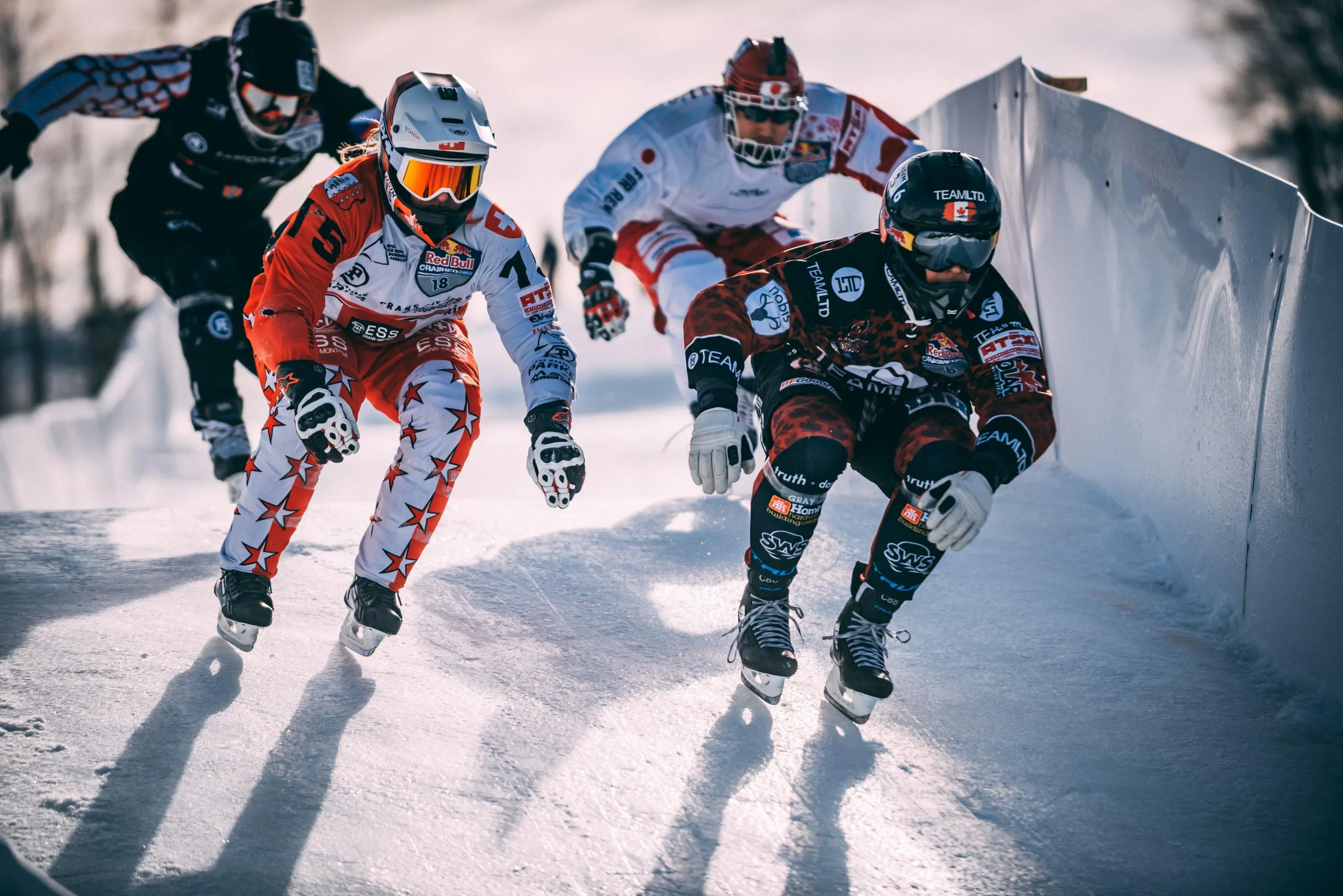 Kyle Kroxall returns to the competiton. Image: Bogdan Kosanovic / Red Bull Content Pool
As seen in Pra-Loup the weather plays a big role where ice is the key element for the sport. Due to warm temperatures in France last weekend, melted parts of the track had to be covered with Plexiglas which turned out to be a perfect solution. The temperatures in Russia at the moment are even warmer – leading to the race in Igora needing to be rescheduled to February 22.
The previously announced ATSX 1000 race on February 29, 2020 in Nur-Sultan, Kazakhstan has been rescheduled for Le Massif de Charlevoix, Quebec, Canada for a week earlier on February 22. As part of this shift, the event will be formatted as an ATSX 500 race to better reflect the course and environment that Le Massif de Charlevoix provides. 
To make the calendar as efficient as possible for the riders, this also means that the ATSX 250 race in Almaty, Kazakhstan scheduled for the weekend on February 22 will be removed. As replacement, an ATSX 250 race in Alpe di Siusi, Italy on March 14 has been added to the calendar.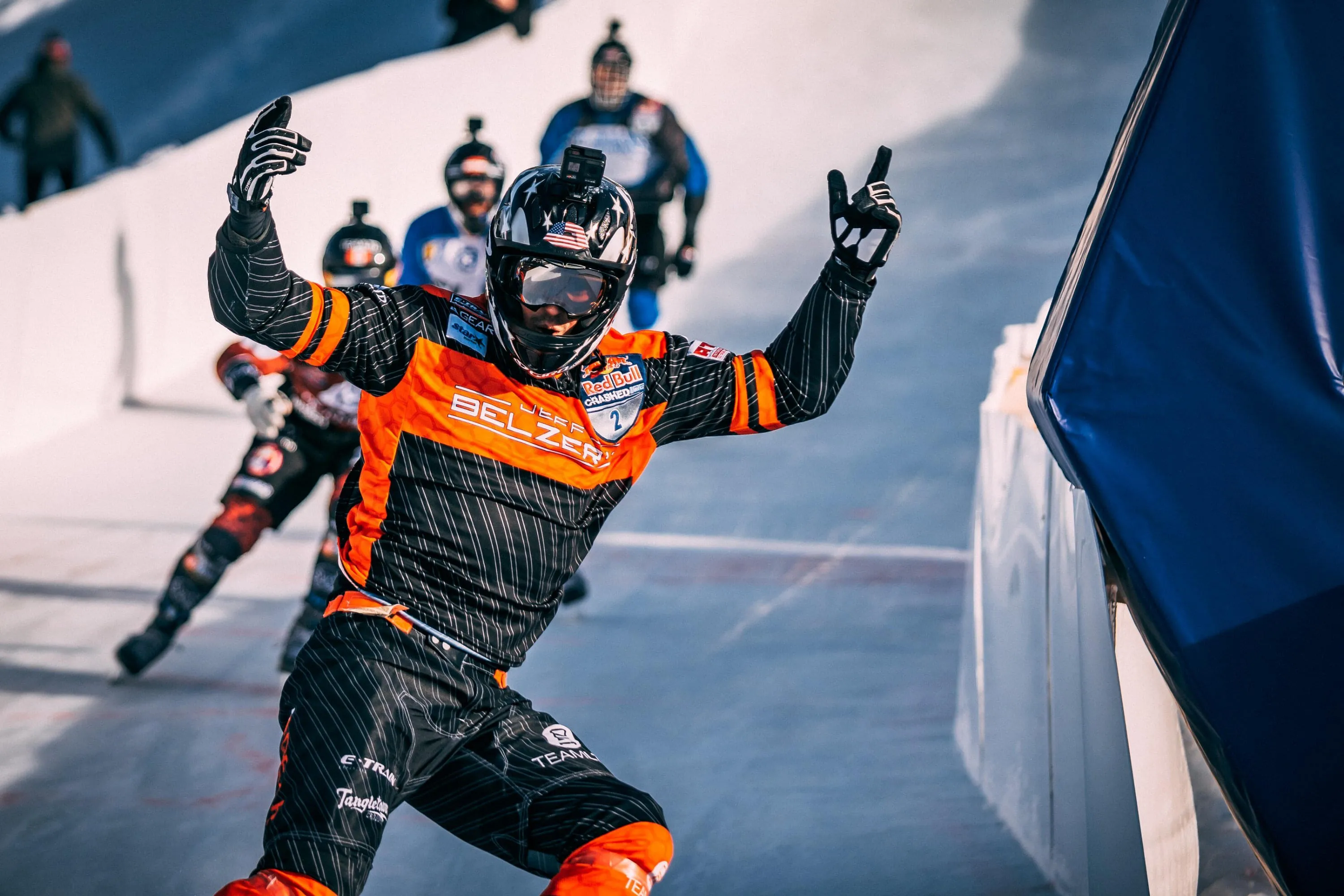 Cameron Naasz has that winning feeling. Image: Bogdan Kosanovic / Red Bull Content Pool
About Ice Cross
In Ice Cross races, fearless skaters hurtle down courses of up to 700 meters in length, filled with obstacles such as bumps, turns, hairpins and waves. The ice can be natural, in ski resorts, or artificial, at city centre locations. Riders go 4-at-a-time, at speeds of up to 80 km/h. The fastest two advance to the next round until there is a 4-rider final, in each category (Men, Women, Junior).
Depending on the difficulty of the track and the amount of World Championship/Ranking points available for the athletes, race weekends are labelled ATSX 250, 500 or 1000. Over the past two decades, 1,000 athletes from 51 countries and 5 continents have taken part in races that have become so popular that they draw enormous and enthusiastic crowds.
2019/2020 Red Bull Ice Cross World Championship Calendar (Updated Jan 14, 2020)
December 28: Judenburg, AUT – ATSX 500
January 11: Pra-Loup, FRA – ATSX 500
January 18: Mont du Lac (Wisconsin), USA – ATSX 500
February 1: Percé, CAN – ATSX 250
February 2: Nagano, JAP – ATSX 250
February 8: Rautalampi, FIN – ATSX 500
February 15: Yokohama, JAP – ATSX 1000
February 22: Igora, RUS – ATSX 500
February 22: Le Massif de Charlevoix, Québec, CAN – ATSX 500
March 7: Ekaterinburg, RUS – ATSX 250
March 14: Alpe di Siusi, Italy – ATSX 250
March 21: Moscow, RUS – ATSX 1000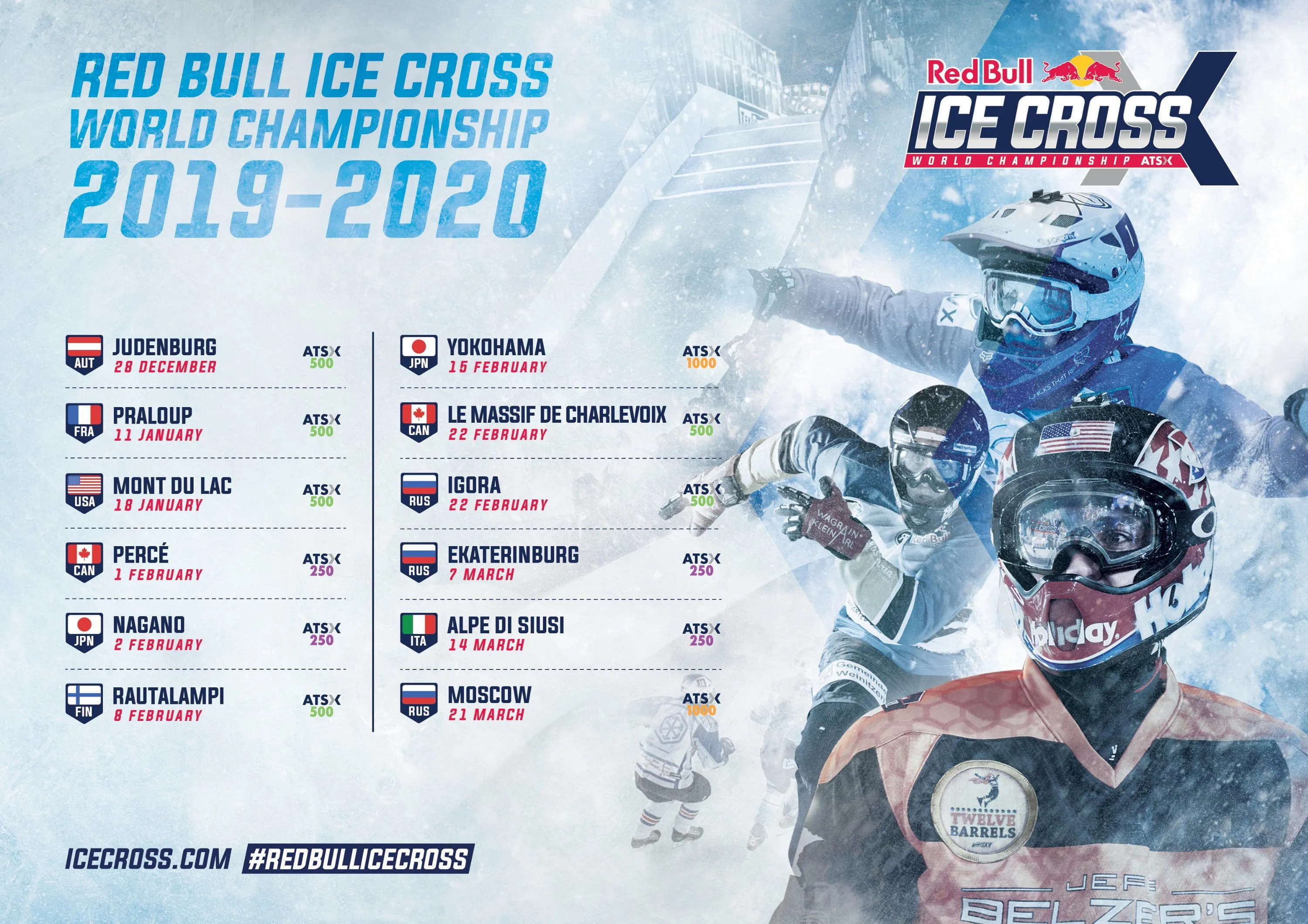 For more pictures and videos available for download and free for editorial use, visit www.redbullicecrossnewsroom.com.
The ATSX 1000 races are broadcasted live on Red Bull TV (outside of North America). Red Bull TV is available on connected TVs, gaming consoles, mobile devices and more. For a full list of supported devices, visit this page.