Steven Cox: Ice Cross Rider, Bike Track Builder and Freeride Skier at Le Massif de Charlevoix
Another Quebec-born rider has a special connection to Le Massif de Charlevoix, where an ATSX 500 race is scheduled for Saturday and broadcasted live on Red Bull TV. Steven Cox knows the area very well, as he comes here to enjoy the snow since he is a kid. He also built a bike track here last summer with the local workers and he cannot wait to skate the 410-meter Ice Cross course designed by fellow Quebecker and former rider Chris Papillon, who is now the Sport Director for the Red Bull Ice Cross World Championship.

Steven Cox on the charge. © Mihai Stetcu / Red Bull Content Pool
"I love to build tracks, it's my job now", Cox explained on Thursday, at the beginning of a very busy day at Le Massif de Charlevoix. He was first planning to freeride between the trees, in order to warm-up and enjoy the powder left after a big snowfall earlier this week. Then he had to register for the second Canadian stop on the Ice Cross calendar this winter, after Percé on February 1. He is now placed 14th in the ranking after the first ever podium of his skating career, last Saturday in Yokohama at the first ATSX 1000 race of the season.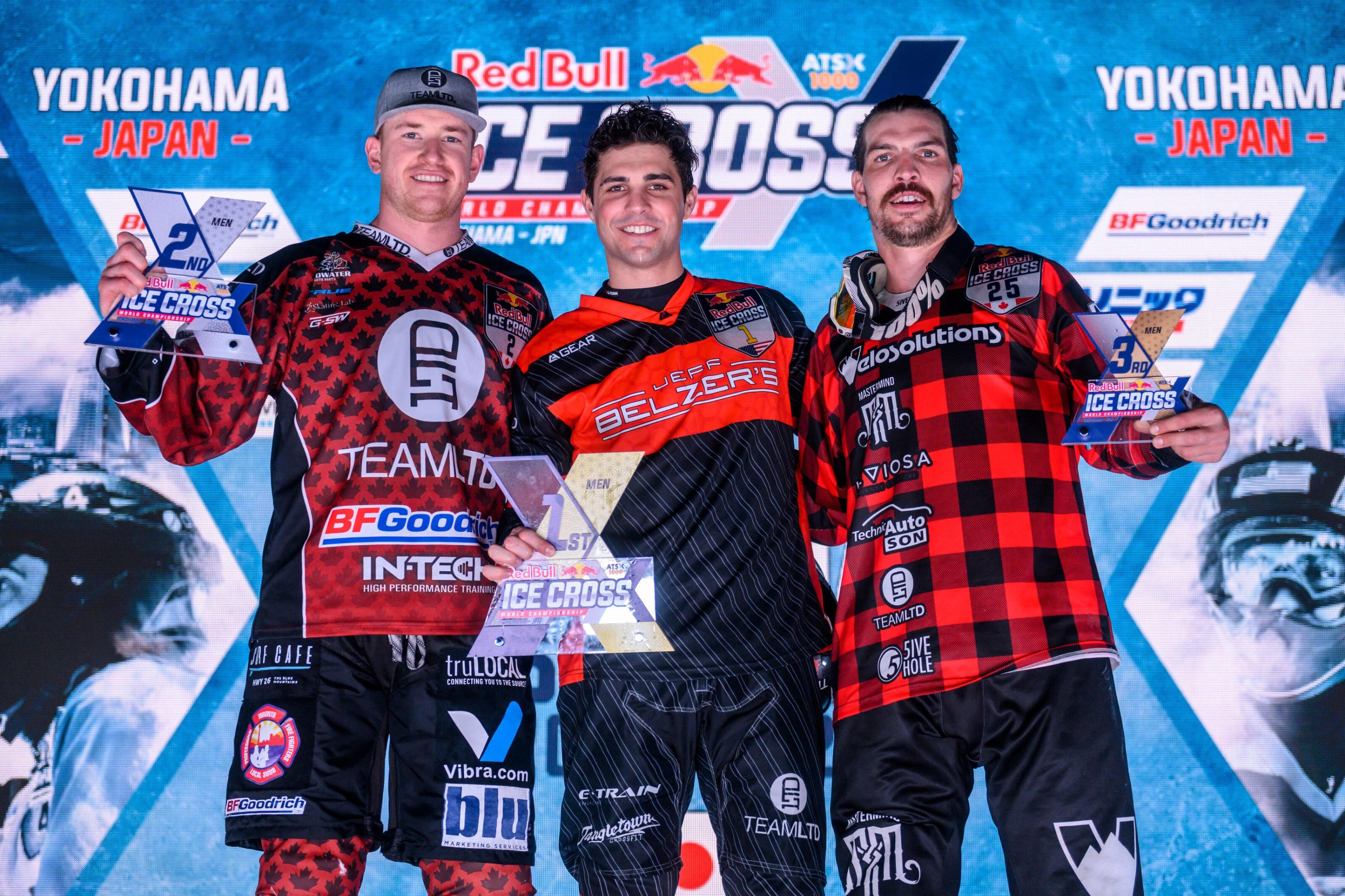 Steven Cox shared the podium with Cameron Naasz (centre) and Kyle Croxall (left) in Yokohama. © Joerg Mitter / Red Bull Content Pool.
"I was lucky. I don't think I deserved that podium but I took it. There was a series of circumstances and I benefitted from them", Cox admits. There was a couple of race incidents in the semi-final and final, involving the Dallago and Croxall Brothers, then US superstar Cameron Naasz won, as often, ahead of Kyle Croxal and Steven Cox, wearing his signature lumberjack racing overalls. It was a mega achievement for the 29-year-old from Québec City who started Ice Cross in his own city, in March 2013, with an honourable 35th place.
The ATSX statistics say it all: before Yokohama, Cox had travelled to 27 races in seven years, finishing seven times in the Top 10, but never on the podium. The perfect underdog, always smiling and enjoying the sport. His best results to date were a fourth place in Wagrain (Austria) and two sixth places in La Sarre (Québec), close to the Ontario border. All of them at Riders Cup races, in a lower category of Ice Cross races.
In Japan last week, for what was the first major event this year, Cox was one of the most popular riders, not only for his looks and positive attitude, but also because he was already there a few years ago, involved in a  Red Bull Jump & Freeze event, around a spectacular concept imagined by Chris Papillon. "This is when I discovered Japan, the country, the culture, and I loved it", Cox says. He also enjoyed both visits to Yokohama as an Ice Cross rider (17th in 2018) and freestyler.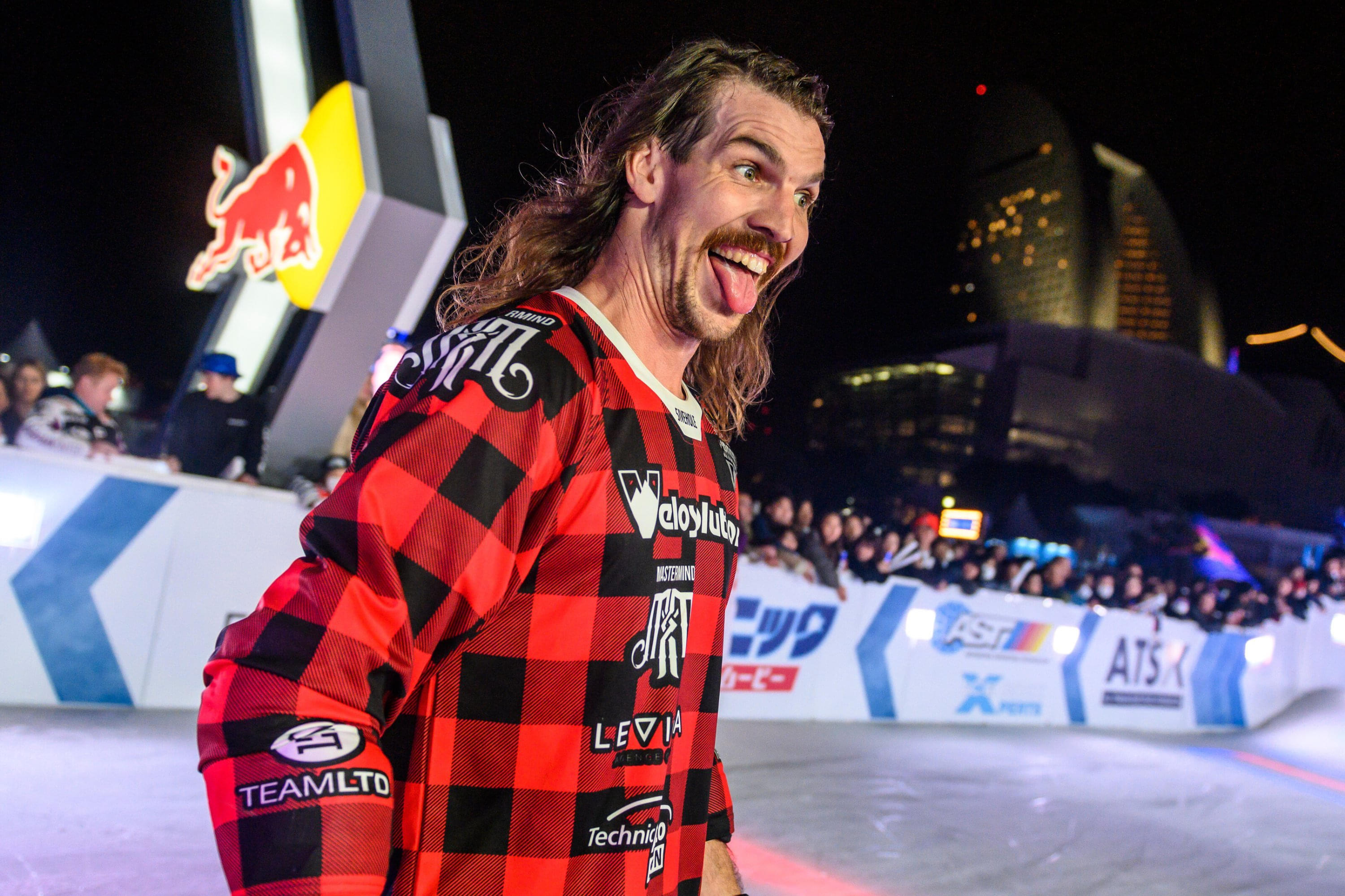 Cox considered himself very lucky to reach the podium in Japan. © Joerg Mitter / Red Bull Content Pool
He also raised his hand when his employer looked for an expert staff member to build pump tracks and bike tracks in various Japanese cities. They create tracks in the whole world, for all sorts of riders, bikers and skaters, so that's how Cox spent a few weeks in Le Massif de Charlevoix last summer, to build a bike track. "They want to have people coming in the summer for other activities. I worked with Gaetan and the other guys in the area. It was great", Steven remembers.  
Last but not least, on Thursday, Steven Cox was scheduled to glide down, in a sled, the 7.4 km luge track which is another specificity of this very special ski resort along the Saint Laurent river. Then, on Friday morning, he was going to test the new Ice Cross track. "I would have loved to build it, and I think that I will like it, although there are not enough jumps for me. It will be fast, there will be a lot of gliding and a limited amount of skating. It should suit me", Steven smiles. Then he puts on his skis, pushes on his sticks and starts skiing down in the powder, in the forest, all the way down to the Saint-Laurent river. Off-track, of course.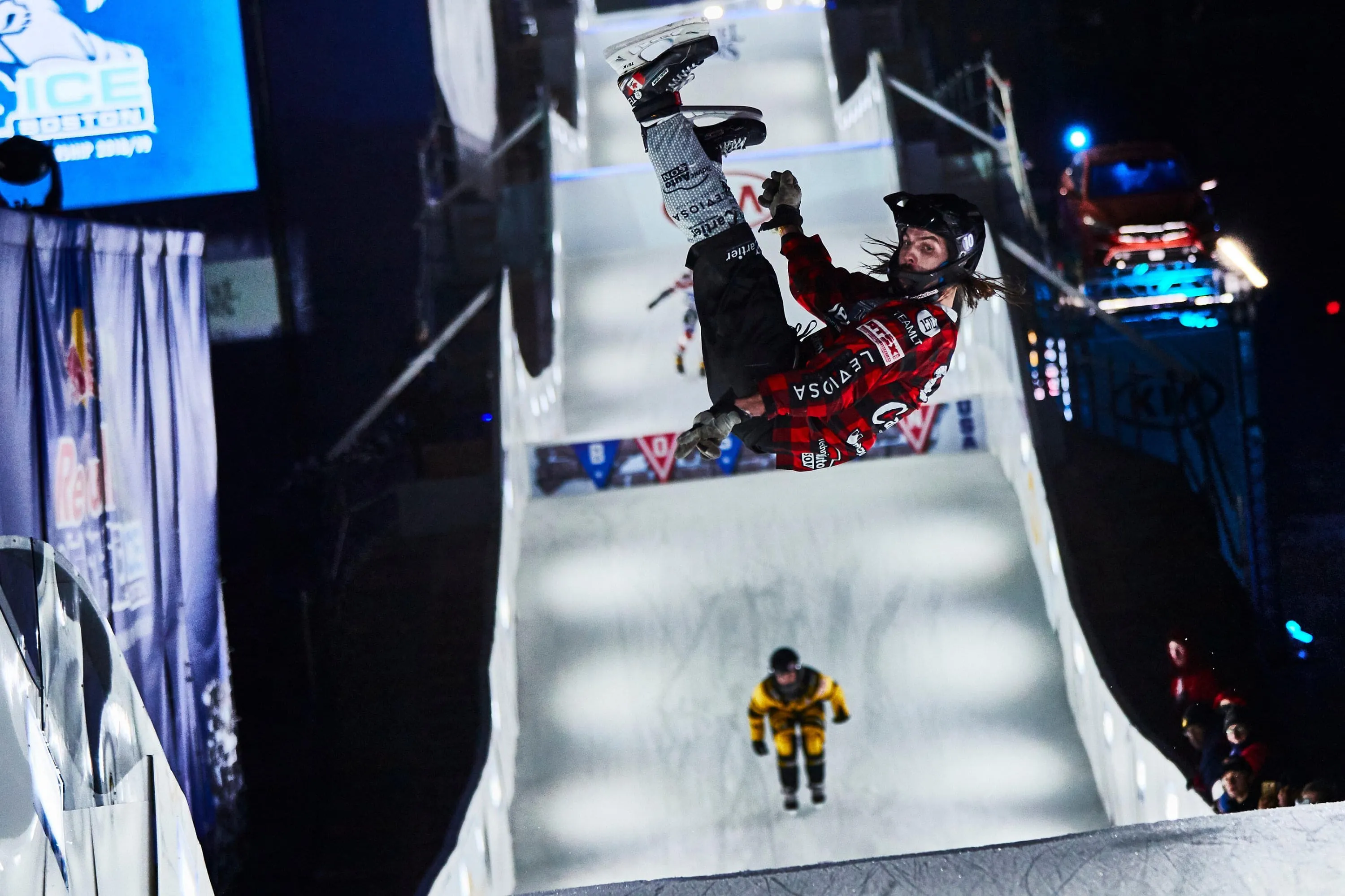 Cox loves to pull off big aerial tricks in the freestyle competition. © Jason Halayko / Red Bull Content Pool
Watch the ATSX 500 race in Le Massif de Charlevoix live on Red Bull TV (outside US) at 2pm local time, 8pm CET on Saturday February 22nd. Red Bull TV is available on connected TVs, gaming consoles, mobile devices and more. For a full list of supported devices, visit this page.