Judenburg 2: Dallago, Windisch and French Juniors continue to reign in Dallago Land
JUDENBURG (Austria), Feb 14 – Austrian star rider Marco Dallago repeated his victory of last week's race in Judenburg, Austria and extended his lead in the Euro Division of the ATSX Ice Cross World Championship, on Sunday. The former World Champion beat Swiss Kevin Sciboz, whose last podium dated back to December 2017 in Wagrain-Kleinarl, on another Austrian track. German Luca Engler took 3rd in the final, ahead of Czech regular Michael Urban at the end of a day of finals marked by extreme cold and hard ice. For Marco Dallago, it was the third win on this track in Styria that has designed and built, maintained and perfectly prepared for two races in a week.
In the Women's Final, former Olympic speed skater Veronika Windisch won again, ahead of French roller champion Amandine Condroyer in a final where 20-year-old Czech sensation Simona Lejskova took the best result of her debut Ice Cross season, in her second race only, ahead of experienced Swiss skater Pauline Chappuis, back on the circuit after missing last week's event.
The Juniors competition was again dominated by the French trio of Théo and Artur Richalet-Chaudeur, followed by Leo Kelekis. All three of them also entered the Top 10 in the Men's race, for the first time in their career.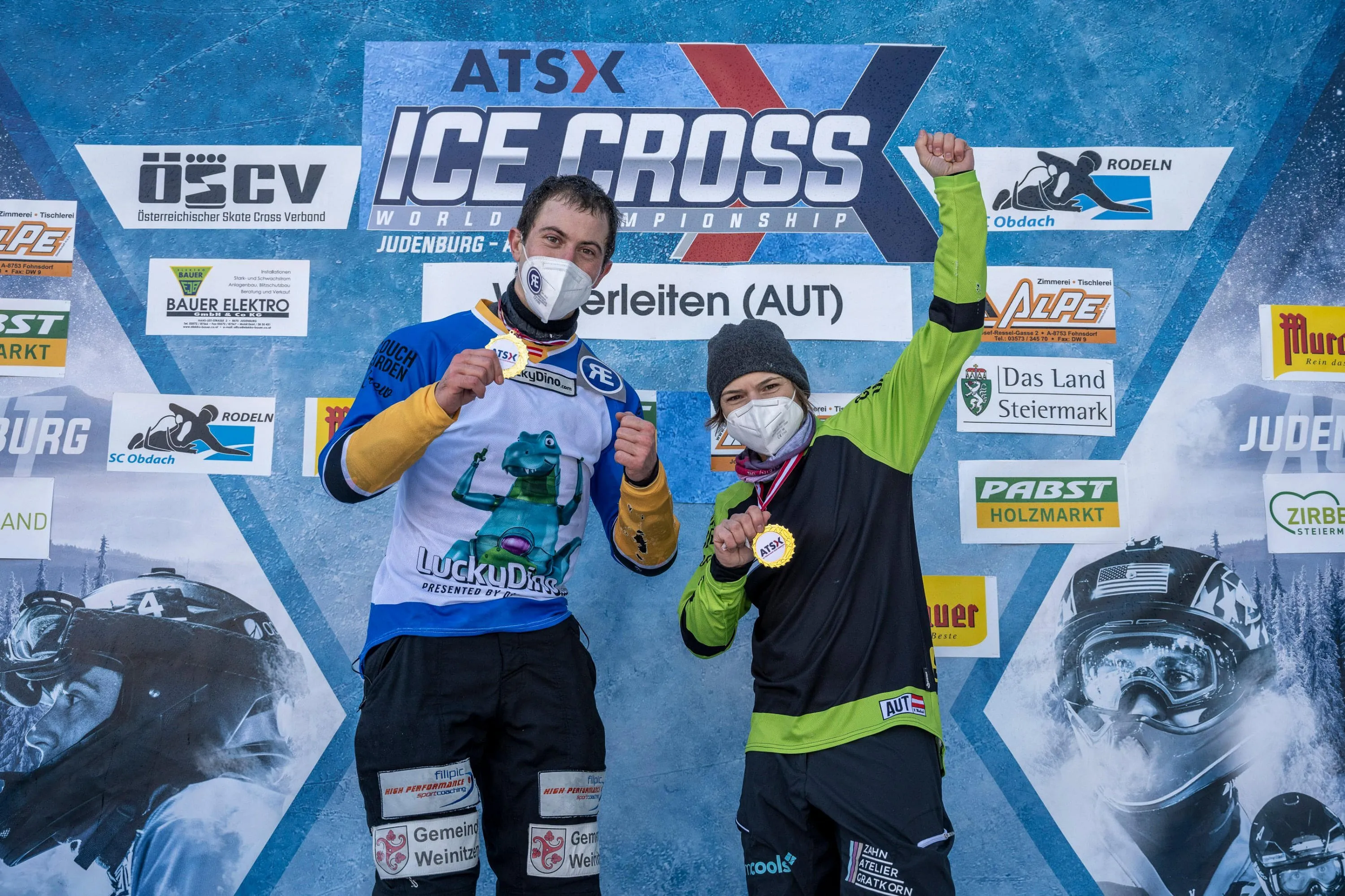 Marco Dallago and Veronika Windisch were victorious in Judenburg. Image: Joerg Mitter / Limex Images
Results
Men: 1. Marco Dallago (AUT), 2. Kevin Sciboz (SUI), 3. Luca Engler (GER), 4. Michal Urban (CZE), 5. Théo Richalet-Chaudeur (FRA), 6. Arthur Richalet-Chaudeur (FRA), 7. Patrick Merz (SUI), 8. Vaclav Kosnar (CZE), 9. Léo Kelekis (FRA), 10. Florian Gruber (GER).
Women: 1. Veronika Windisch (AUT), 2. Amandine Condroyer (FRA), 3. Simona Lejskova (CZE), 4. Pauline Chappuis (SUI), 5. Layat Jenna (SUI).
Juniors: 1. Théo Richalet-Chaudeur (FRA), 2. Arthur Richalet-Chaudeur (FRA), 3. Léo Kelekis (FRA), 4. Julius Baecher (AUT), 4., 5. Lion Baecher (AUT). 
Click here to view a full gallery of images from Judenburg.
Free pictures for editorial usage: Joerg Mitter/ Limex Images