Nakari Wins Yokohama ATSX 1000 Junior Competition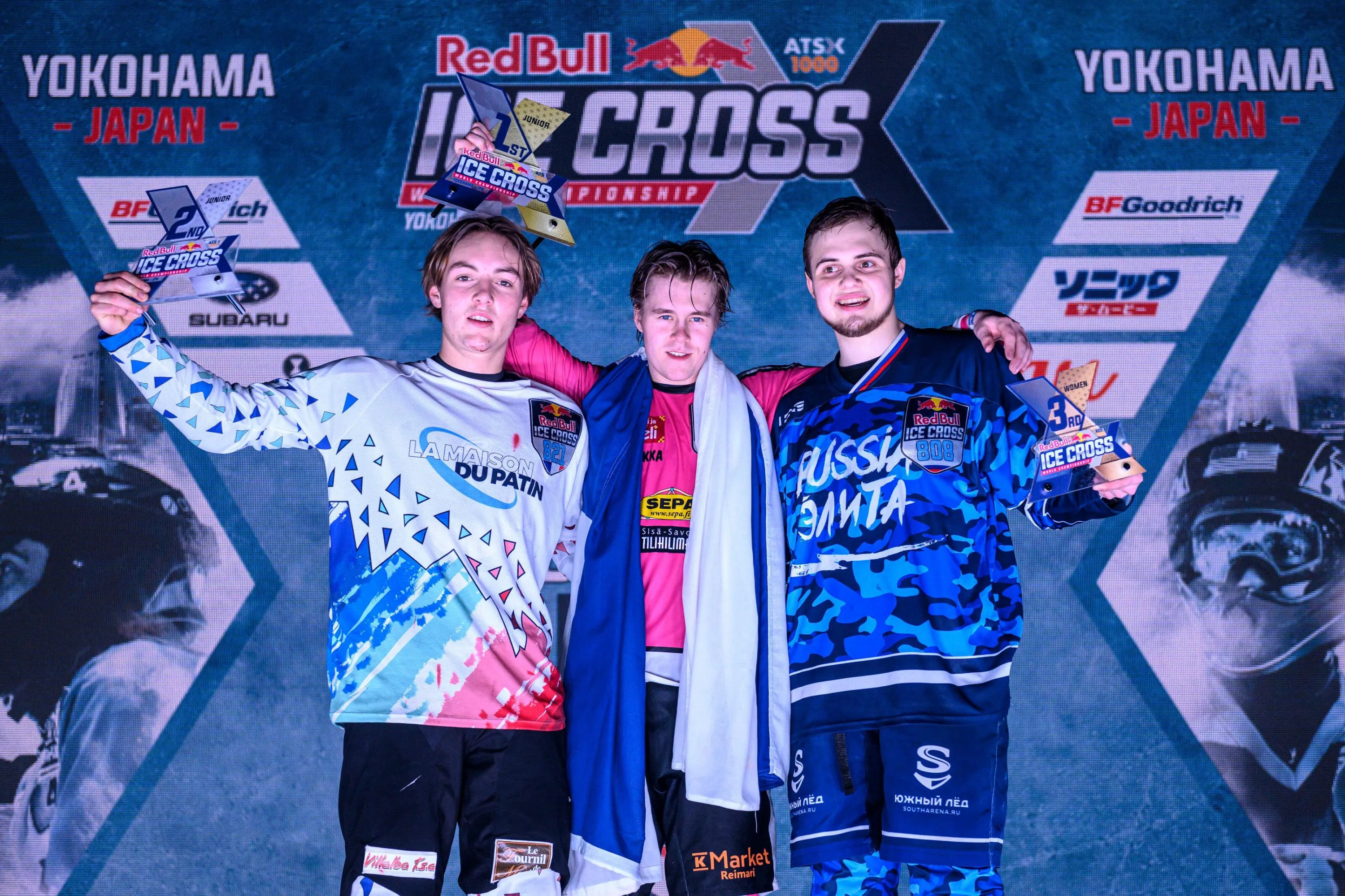 The Juniors celebrate their success on the Yokohama ATSX 1000 podium. © Joerg Mitter / Red Bull Content Pool
Finland's rising star Leevi Nakari won his second race in one week, Friday night in Yokohama, after the video judge decided to disqualify Jo-Jo Velasquez (USA) for allegedly pushing Arthur Richalet-Chaudeur (France) to take the lead. So that third place on the podium of the first ATSX 1000 race of the year went to Egor Tutarikov (Russia), ahead of Velasquez, the reigning Junior World Champion.
"I think Jo-Jo should have won this one. He did not push Arthur", said a gutted Nakari after collecting his second trophy in six days, since he had won last Saturday in Rautalampi (Finland), for the first time in his Ice Cross career. "I like this course, it fits my style", Nakari added, and he was exhausted.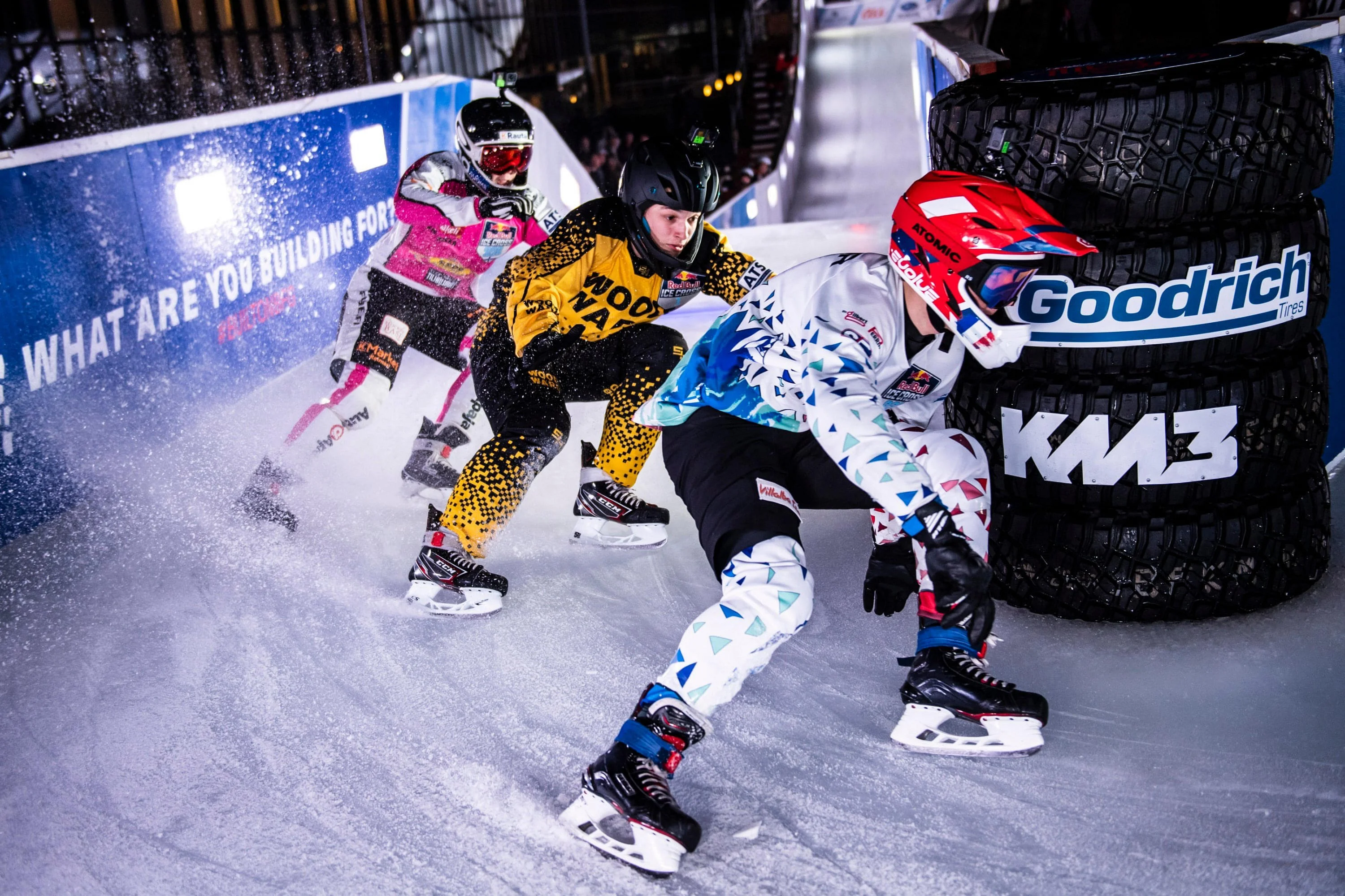 Arthur Richalet-Chaudeur leads Jo-Jo Velasquez and Leevi Nakari into the BF Goodrich Toughness & Traction Corner. © Jason Halayko / Red Bull Content Pool
"I hit the brakes very hard in that turn, and Jo-Jo arrived very fast", admitted Richalet-Chaudeur about this crucial incident in the AU Bank left turn, one of the toughest corners of the course. As a consequence, Nakari takes the lead of the Red Bull Ice Cross Junior World Championship ahead of the very consistent Frenchman, for 25 points only.
Both riders should have lost it all in a crazy semi-final where both their rivals, Vladislav Ivanov (RUS) and Skyler Diamond-Burchuk (CAN), surprisingly crashed on the last double roller, just meters from the finish line, leaving the door open to the grand finale.
Velasquez was upset but he joined his rivals on the final podium, in a classy gesture, for a special photo of the undisputable best four Junior riders of the season. And everything remains open for the world title chase. There are a lot more points to collect in the next five races, including 1,000 points at the Moscow finals in March.
Saturday will surely be another day to remember in Yokohama (Japan), with Men and Women finals involving a whole bunch of current and former World Champions, in both categories. And there could be a few surprises left for the public in Rinko Park.
ATSX 1000, Yokohama, February 14, 2020:
Results Juniors:  1. Leevi Nakari (FIN), 2. Arthur Richalet-Chaudeur (FRA), 3. Egor Tutarikov (RUS), 4. Johanny Velasquez (USA), 5. Linus Ollikainen (FIN), 6. Vladislas Ivanov (RUS), 7. Leon Stecenko (RUS), 8. Skyler Diamond-Burchuk (CAN), 9. Guillaume Libert (FRA), 10. Eli Schaffer (USA).
Juniors Winning Run
Juniors Best Action