Super Naasz Beats Both Croxalls and Both Dallagos at Amazing Yokohama ATSX 1000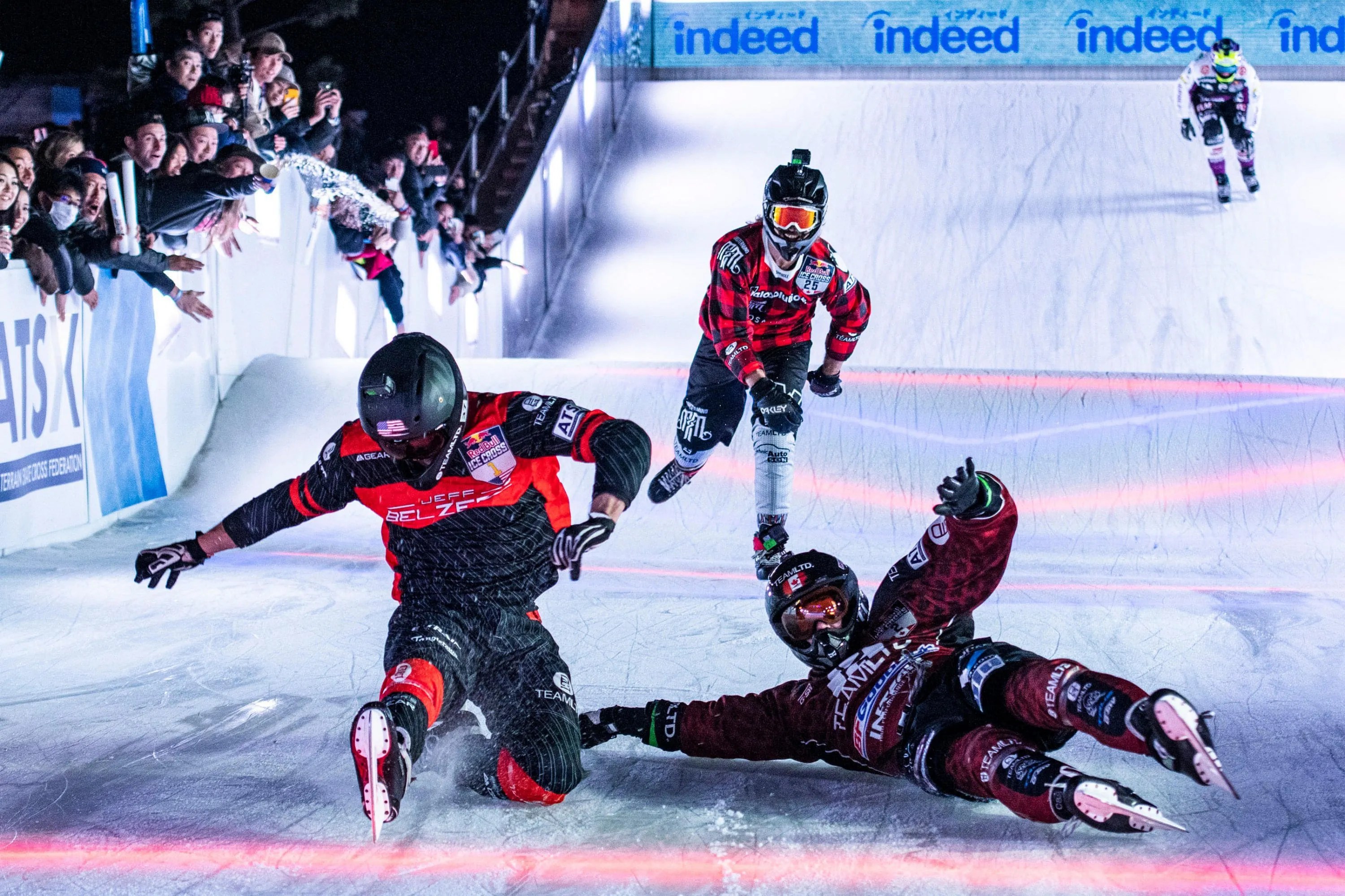 Cameron Naasz beat Kyle Croxall across the line in a photo finish in Yokohama. © Mihai Stetcu / Red Bull Content Pool
Reigning World Champion Cameron Naasz (USA) made a big step towards a fourth world title in five years by winning the first ATSX 1000 race of the season in Yokohama, Japan this Saturday. In a closely contested final witnessed by thousands of happy Japanese fans, the 30-year-old American rider from Wisconsin managed to beat rival Kyle Croxall by the length of a blade. Fan favorite Canadian Steven Cox rounded out the podium with a wild run that saw him threaten at a few points on the track before ultimately fading at the stretch.
"It feels very good to win again. I was pumped up to pull it off against good friends. I am really happy, because it is hard to earn points this year", Naasz said after the 20th win of his Ice Cross career, two of them in Yokohama. "I am glad that this sport is reaching new parts of the world", he also added after receiving his trophy on the podium. The small final was won by Luca Dallago, ahead of Michael Iulianello (USA) and Jim de Paoli (SUI).
Not to be outdone, the women's final provided fireworks with Canadian Maxie Planté winning the first race of her career.  The Canadian took an early lead and fought off a furious challenge from compatriot Jacqueline Legere at the finish to emerge victorious and announce herself as a serious threat to the championship picture. Legere, winner of three races previously this season, will move on to the next race in Le Massif de Charlevoix, Quebec with a leg up on third place finisher Amanda Trunzo (USA) who claimed the overall women's title in 2019.  Rounding out the final heat was rising star 18 year-old Justine Zonne from Latvia.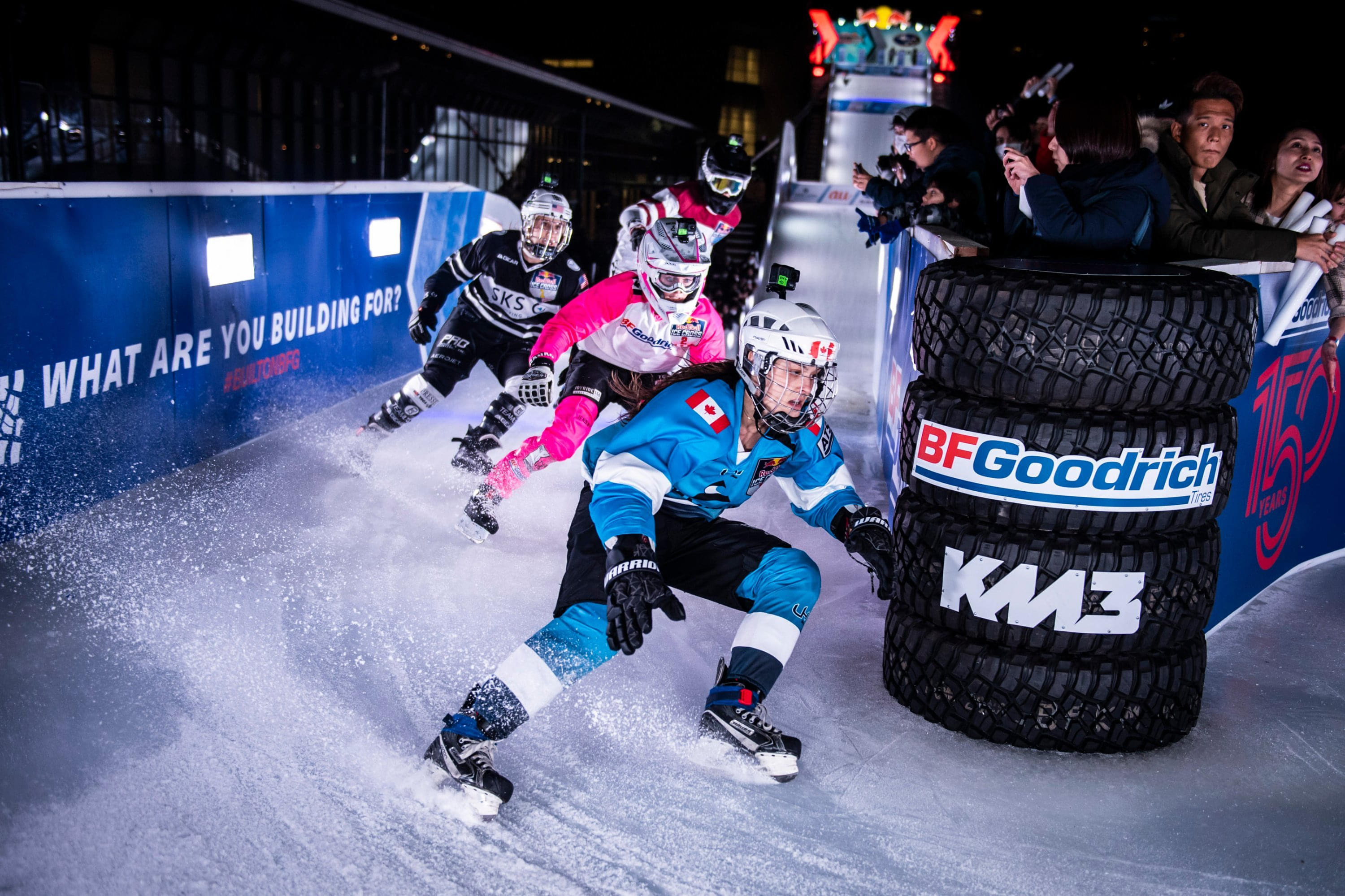 Maxie Plant took control of the womens' final early and held on to win her first ATSX 1000 race. © Jason Halayako / Red Bull Content Pool
"It's amazing. I have been racing for six years, I waited so long for this moment", Plante reacted after the first major win of her career. The only time 27-year-old Plante had won before, on the global Ice Cross circuit, was at a Riders Cup in Finland, during the winter of 2018. However, in the course of 18 races since Quebec in 2016, she now holds an impressive record of 15 finishes in the Top 10. She also benefitted from the premature elimination of Swiss skater Anaïs Morand, in one of the semi-finals.
Luca Dallago, the Austrian leader of the Red Bull Ice Cross World Championship heading into Yokohama, crashed out of the semi-finals in slightly controversial fashion. Leading his heat out of the gates, judges determined he was pushed illegally by fellow rider Scott Croxall, brother of the second-place finisher.  What made the disqualification even more painful was the fact that Scott Croxall is not participating in the world championship and is only riding in an exhibition capacity.  
Next up on the Red Bull Ice Cross World Championship schedule is Le Massif de Charlevoix, near Quebec City, on February 22.  Canadian riders will compete on home ice for an ATSX 500 race in the beautiful hills overlooking the St. Lawrence river outside Quebec City. The Igora, Russia race which was also scheduled for February 22, has been postponed until March 7, due to unfavorable conditions for building ice on the track.
Results Men: 1. Cameron Naasz (USA), 2. Kyle Croxall (CAN), 3. Steven Cox (CAN), 4. Mirko Lahti (FIN), 5. Luca Dallago (AUT), 6. Michael Iulianello (USA), 7. Jim De Paoli (SUI), 8. Scott Croxall (CAN), 9. Dean Moriarty (CAN), 10. Dmytry Murlychkin (RUS).
Women: 1. Maxie Planté (CAN), 2. Jacqueline Legere (CAN), 3. Amanda Trunzo (USA), 4. Justine Zonne (LAT), 5. Myriam Trepanier (CAN), 6. Anais Morand (SUI), 7. Veronika Windisch (AUT), 8. Tamara Meuwissen (USA), 9. Samantha Meuwissen (USA), 10. Amadine Condroyer (FRA).
View the image gallery from the event here
POV Track Preview
Winning Run: Men
Winning Run: Women
Best Action
Top 5 Moments