Maxie Plante, a Pilot in the Great North, an Ice Cross Rider in Le Massif de Charlevoix
Quebec-born Maxie Plante may have been a surprise winner in the Ladies final at Yokohama ATSX 1000 race last week, for her first major win in the Red Bull Ice Cross World Championship. But she was so strong that night that it will not be a surprise at all if she wins again at Le Massif de Charlevoix the ATSX 500 next Saturday, because she is currently at the top of her game.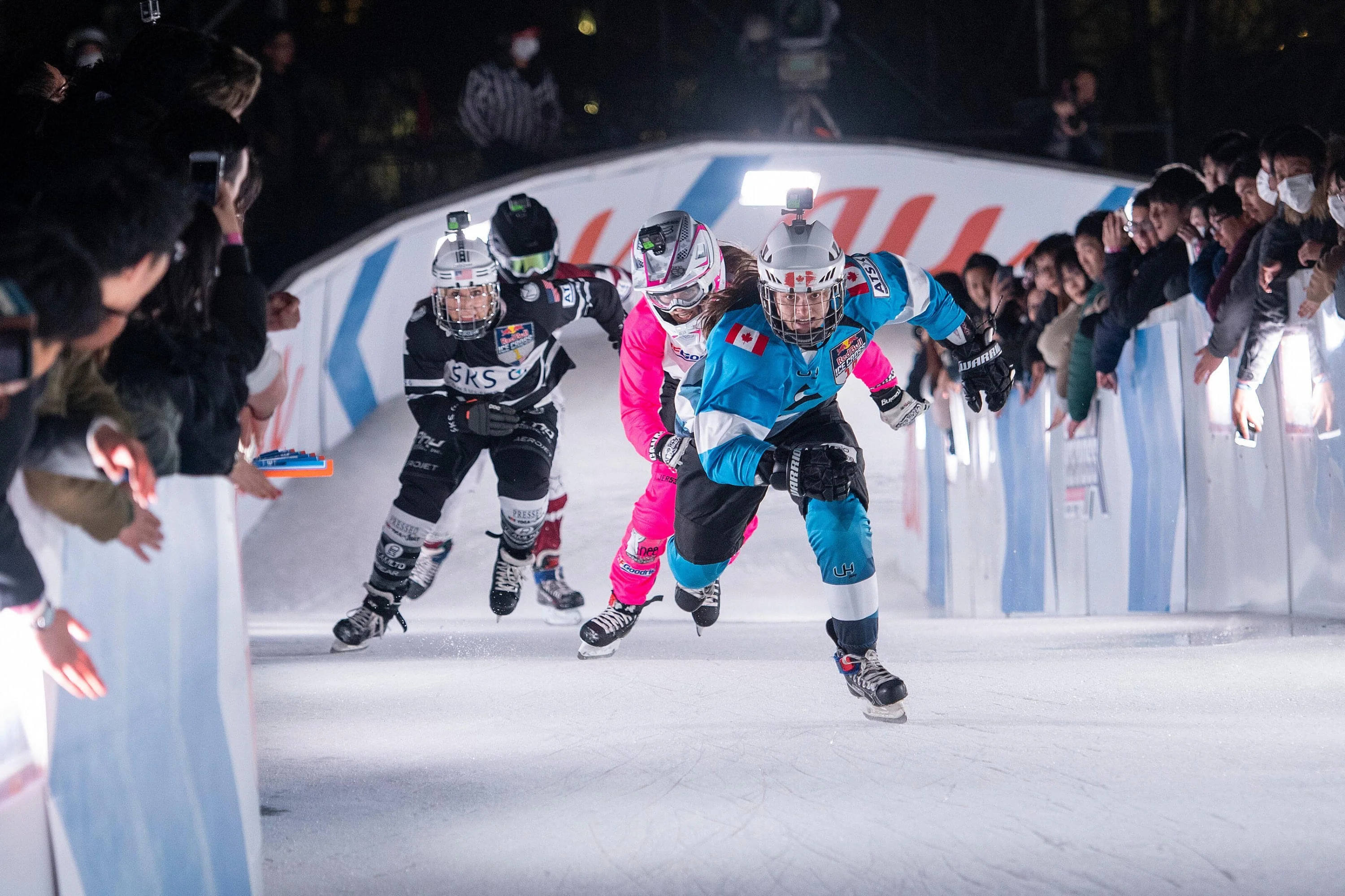 Maxie Plante charged to her first ATSX 1000 win in Yokohama, Japan. © Andreas Schaad / Red Bull Content Pool
Her last two races in Japan, the semi-final and final, were just perfect, from A to Z. She jumped ahead at the start, better than her rivals, and never looked back to the current best riders on the global Ice Cross circuit. Jacqueline Legere and Amanda Trunzo, the only two double World Champions in the female history of the sport, finished second and third. They never had a chance.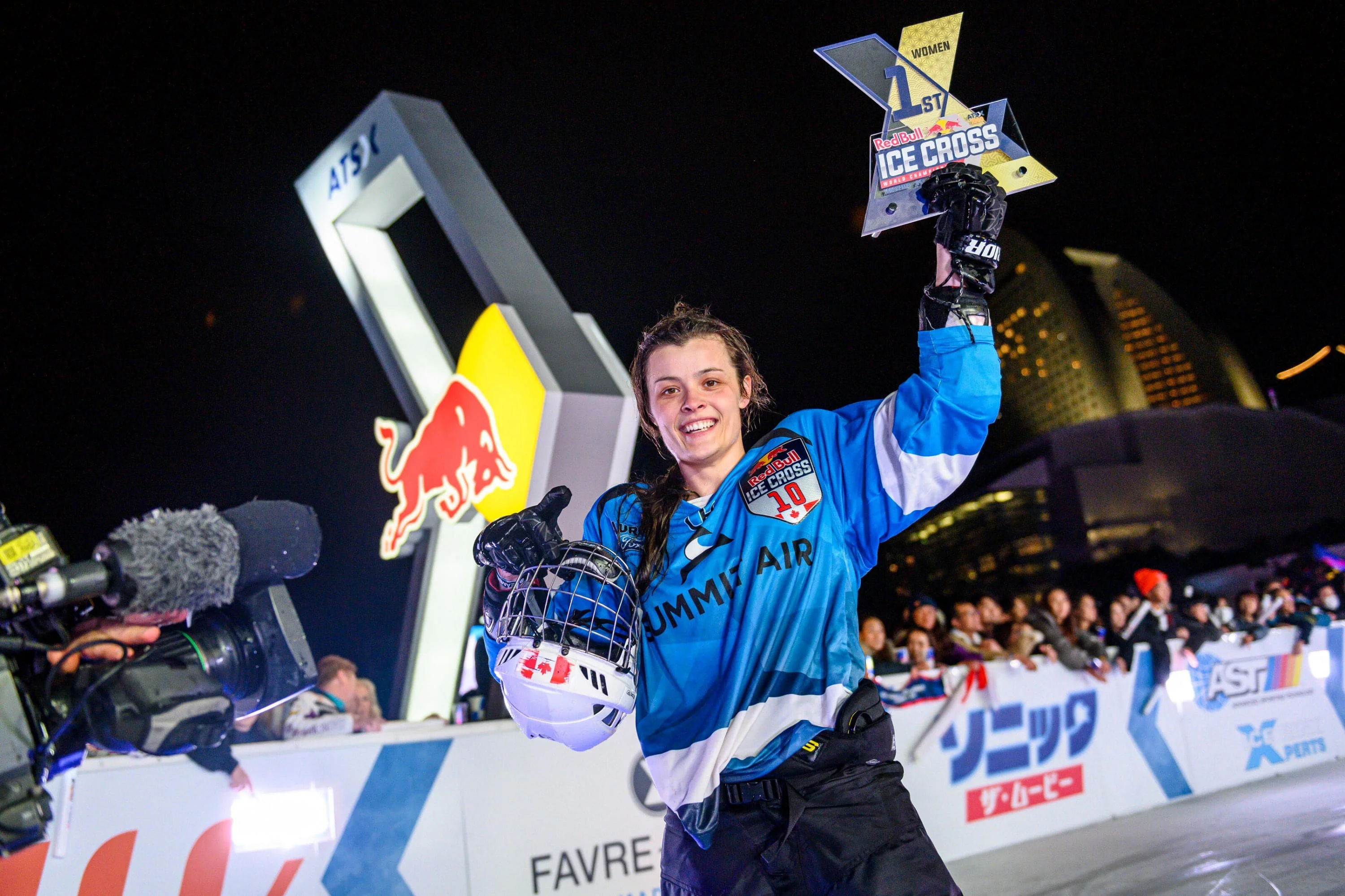 Maxie was all smiles after the first big win of her career. © Joerg Mitter / Red Bull Content Pool
"It was incredible. It took some time for me to realize. I have been waiting for that moment so long. I lost track", Maxie reacted. Coming from a pilot for Summit Air, in the Great North, the reference to losing track is ironic. And Maxie knows where she is going, especially when she takes off from Yellowknife in her 19-seat Dornier 228. "At first, I did not know where Yellowknife is, I went there with my luggage. It was a great opportunity to fly more, to gain some experience. And my employer is now my major sponsor, so I really have to thank him for that, because Ice Cross is expensive", she adds.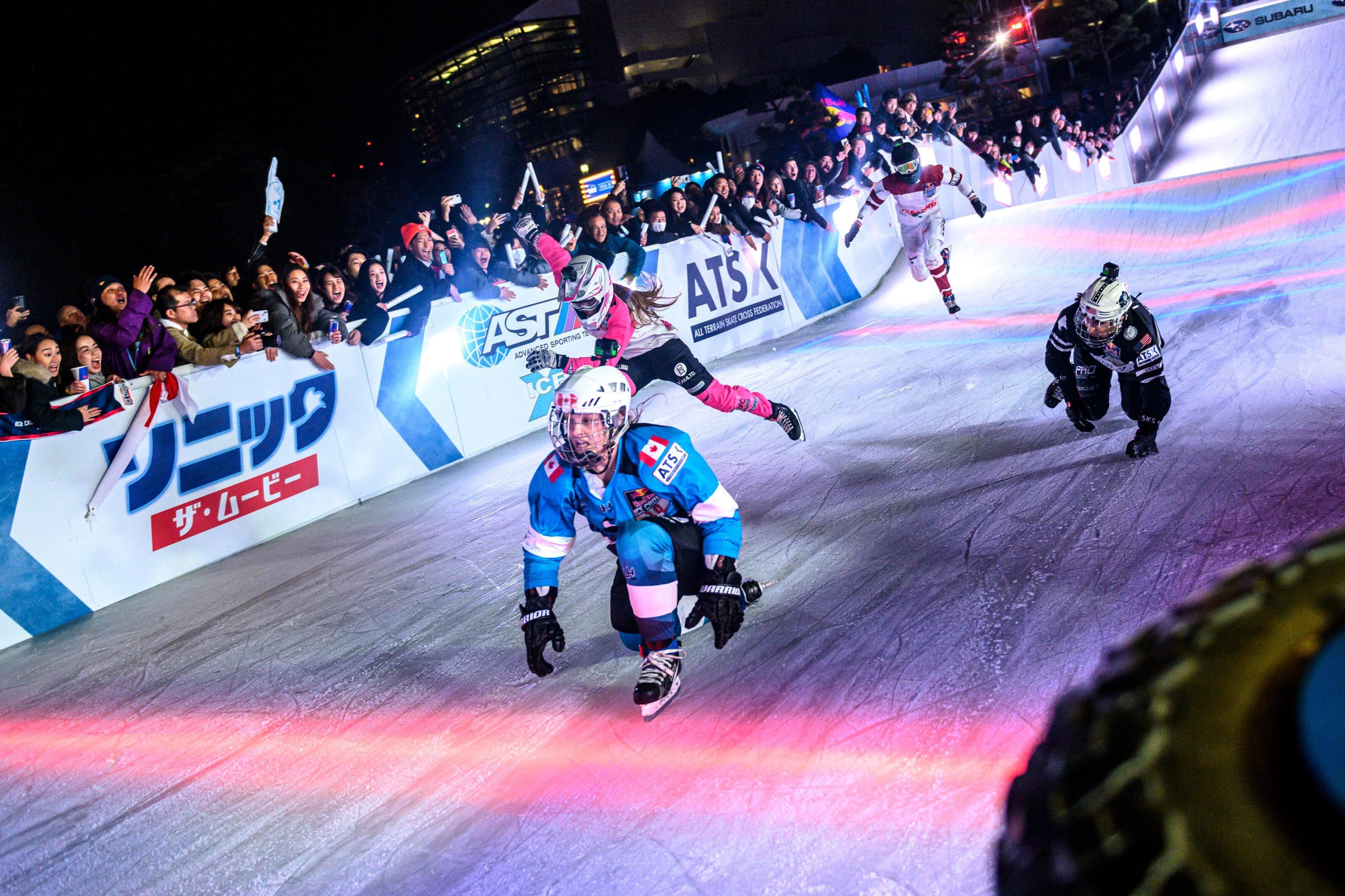 Maxie got to the front of the final race early and was never challenged. © Joerg Mitter / Red Bull Content Pool
In Yokohama, Maxie was impressive. "I felt good on this track, and every heat I felt more confident. On the starting platform, before the final, I said to myself: make sure you have no regrets at the bottom", Maxie explained in a long interview this week with Radio Canada. It was only her second race this season, because of her work commitments with Summit Air. The first one was an ATSX 250 in Percé (northern Québec) on Feb 1, the day she turned 27, and she earned a very encouraging third place. Behind fellow Canadians Legere and Myriam Trepanier. Ahead of Trunzo.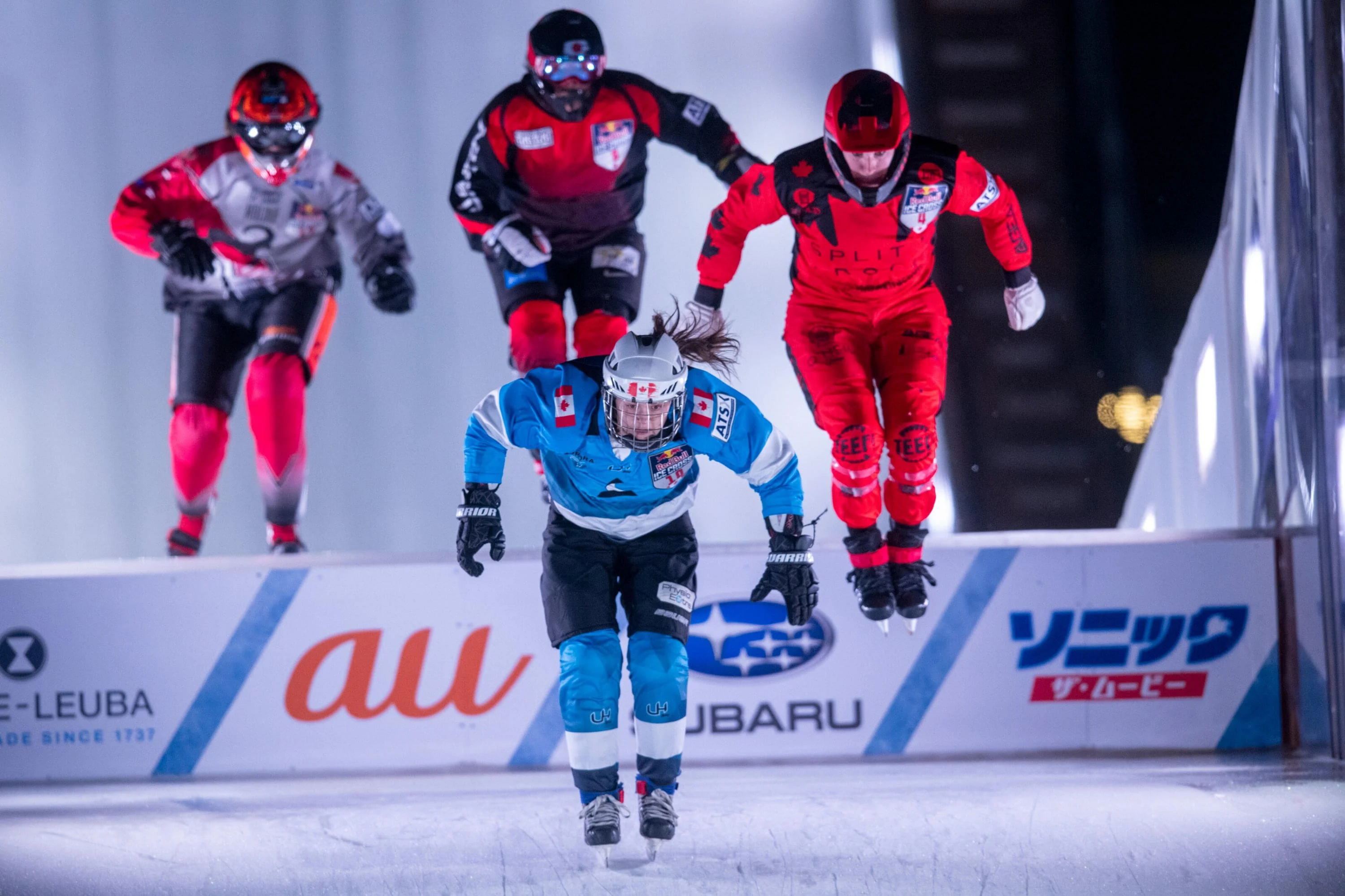 Mind the drop! © Andreas Schaad / Red Bull Content Pool
"Amanda was a bit upset at the end of the final in Yokohama, because I have beaten her twice in a row. She started her season well, but I feel very good at the moment", Maxie smiles. And she cannot wait to be at Le Massif de Charlevoix, on a very long and fast track (410 meters, 45 meters of elevation) which should fit her skating style. "A lot of hockey players think they will be really good at ice cross, they say it looks easy, but it's completely different. It's a matter of bending the knees and staying low, while also racing as fast as you can", she explained to Radio Canada.
Maxie grew up in Magog, east of Montreal, and spent many years playing hockey at a high level, then she retired and "discovered Ice Cross events on TV". She started in Québec City, at the end of 2015 –"I was really scared, at the start of my first heat"- and stunned everybody with a second place right away (out of 24 female riders). Now she has collected 15 Top 10 finishes in 18 races (5 podiums), whole credit to her consistency. Before Yokohama, her only win dated back to February 2018 when she won a Riders Cup in Saariselka (Finland), beating Legere in the final.
Starting the season so late, and missing the first four races, Maxie is not in the chase for the title this year, but she is hungry for more wins, and still fresh after less than 20 races since 2015. And she has no intention to retire from Ice Cross. "I love sport, so I think I will be involved in sport as long as my body allows me". She installed a gym in her house in Yellowknife and is happy that "the training of this winter pays off. I worked on different things…," Maxie adds. It shows, for sure, so now she is one of the obvious favourites at Le Massif this week.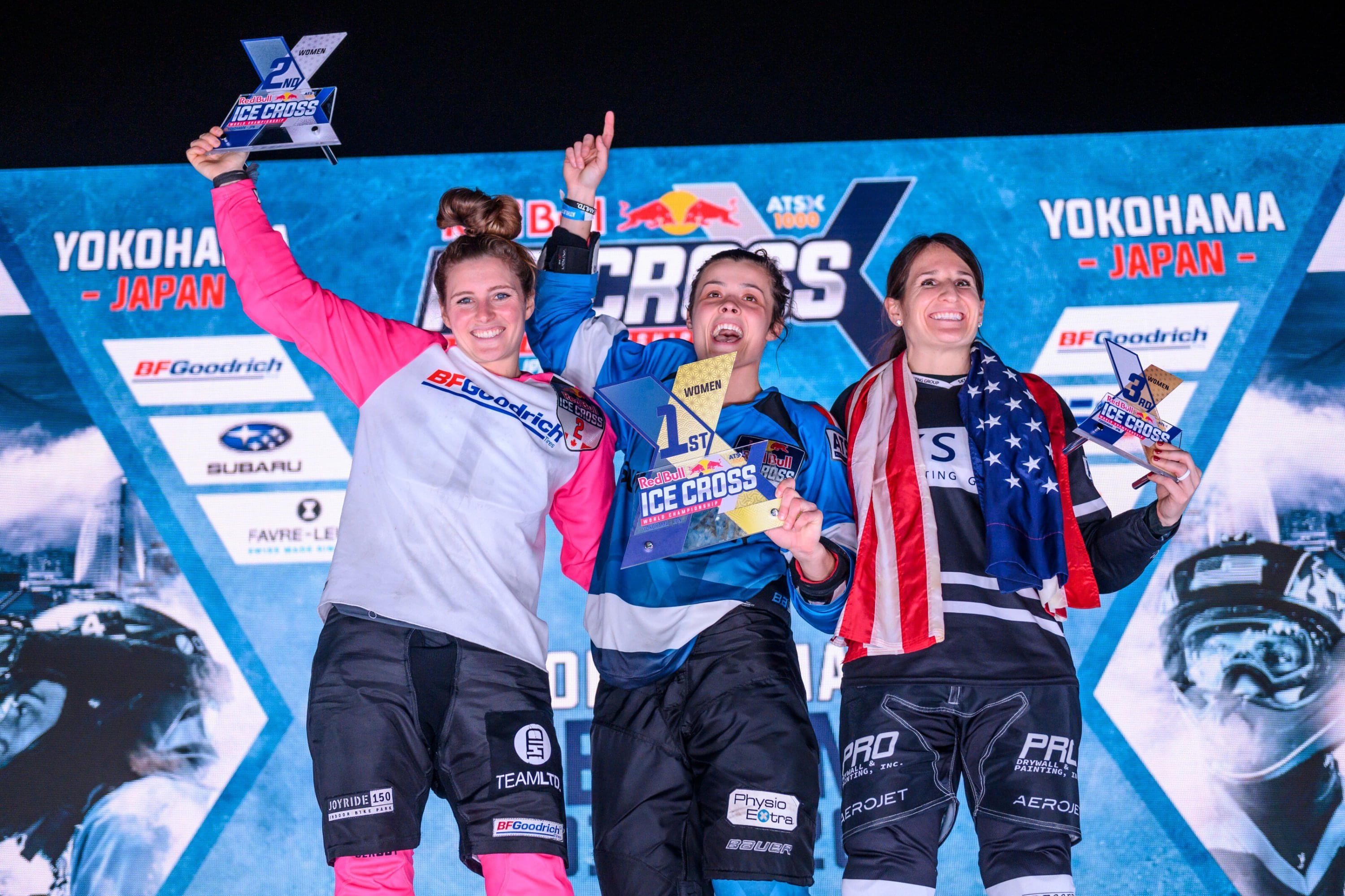 Can Maxie Plante fly to the top of the podium again in Le Massif de Charlevoix? © Joerg Mitter / Red Bull Content Pool