Dallago, Legere and Nakari win Rautalampi ATSX 500 race in Finland
Former World Champion Marco Dallago (Austria) won his second ATSX 500 race of the season, Saturday in Rautalampi, ahead of another Ice Cross master, Kyle Croxall (Canada), and ideally prepared the ATSX 1000 summit scheduled for next week in Yokohama (Japan). In the Ladies final, Canadian Jacqueline Legere completed her third win in five races. Leevi Nakari triumphed in the Juniors final, followed by reigning World Champion Jojo Velasquez.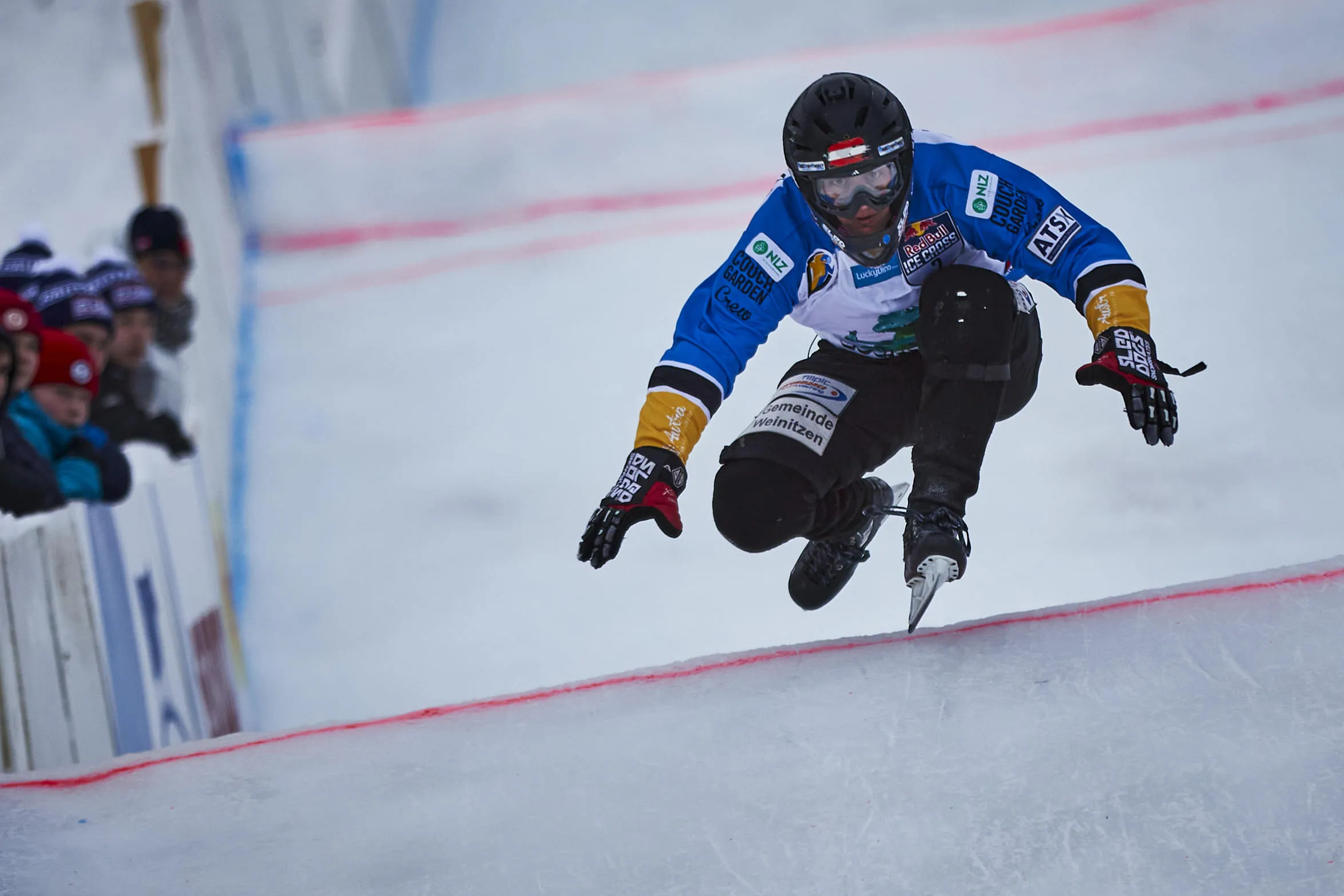 Marco Dallago was in the zone at Rautalampi. © Andreas Langreiter / Red Bull Content Pool
The oldest of the Dallago Brothers (29) benefitted from the absence of Cameron Naasz, who had won in Pra-Loup and Percé, to take the 500 points available, as he did in Judenburg in December for the opening of the season. Marco and Kyle ended the final ahead of surprising British rider Robin Worling, Andrew's older brother, and the other Dallago, Luca, who now leads the World Championship heading for Yokohama, for 50 points only.
Local riders, well supported by hundreds of fans, could not do better than 6th for Jere Lehto, between Czech hopeful Vaclav Kosnar (5th), who won the small final, and the best Russian rider this winter, Dmitriy Murlychkin. Two other Fast Finns completed the Top 10, former Junior World Champion Mirko Lahti (8th) and 35-year-old veteran Antti Tolvanen (9th), followed by Patrik Merz (Switzerland).
The Ladies category lived up to the promises of its star-studded entry list and, once again, Legere was untouchable, unstoppable. The former double World Champion, already a winner in Pra-Loup and Percé this year, managed to beat all her regular rivals, starting with best Swiss rider and former figure skater Anaïs Morand, followed in the final by Austrian speed skater Veronika Windisch, climbing on her second podium this winter after Judenburg, and the best of Legere's compatriots, Myriam Trepanier.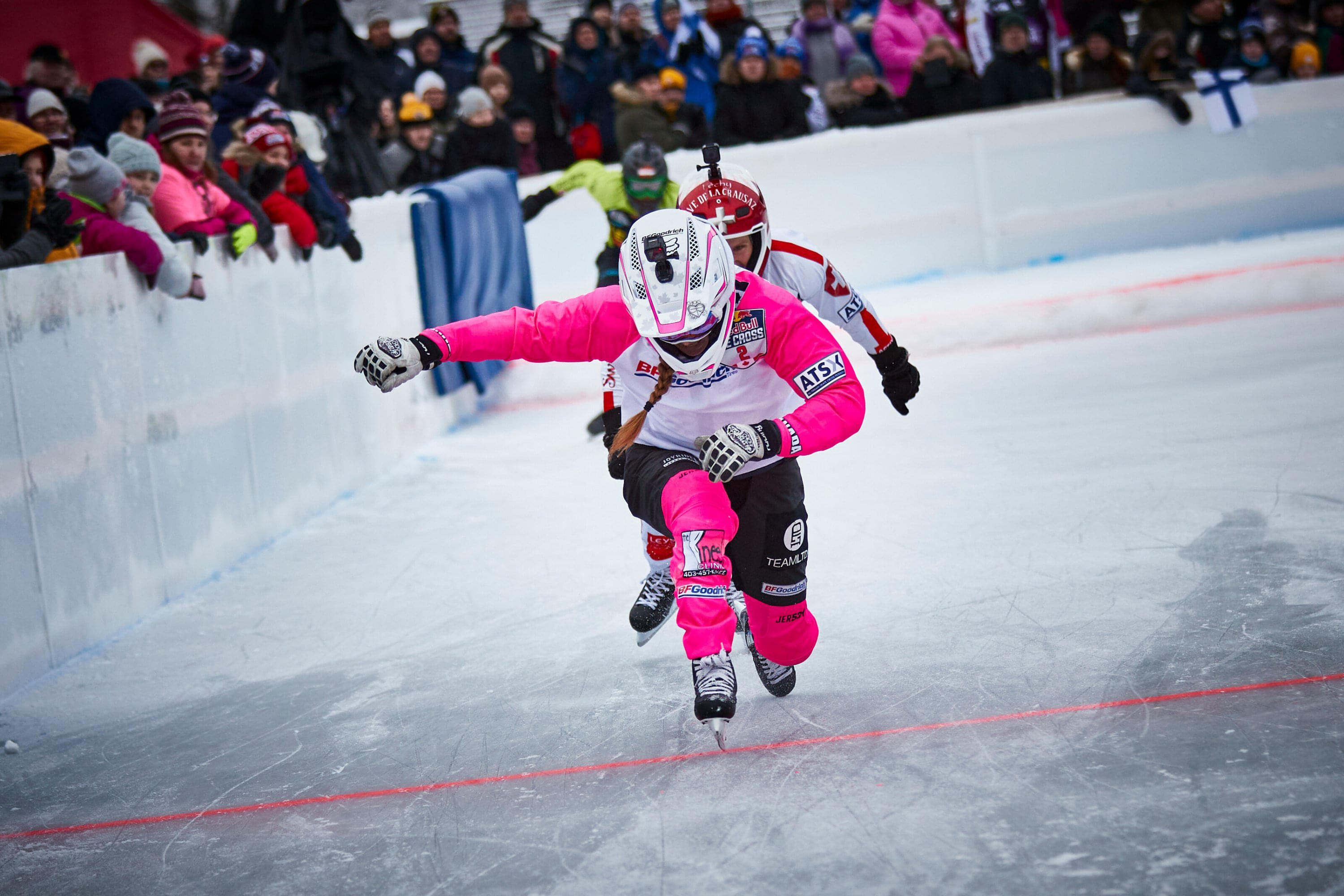 Jacqueline Legere iced up her third win of the season in Finland. © Andreas Langreiter / Red Bull Content Pool
The small final was won by Amanda Trunzo (USA), the reigning World Champion, who now trails Legere with a 50-point deficit at the top of the World Championship after placing five consecutive times in the Top 5 this winter. We are now heading for the mid-season race, in Japan, and the level of suspense is total.  
Last but not least, the Junior race was also a must-see, especially for local fans cheering for Leevi Nakari, definitely the best of the Finns this year. Not only did he manage to beat Jo-Jo Velasquez, the 2019 Junior World Champion and winner in Mont-du-Lac, who had to be happy with 2nd place in the final. He also mastered the treble threat represented by Russian sensation Egor Tutarikov (8th), who had won in Judenburg, and a very efficient duet of French brothers, Théo (4th) and Arthur (5th) Richalet-Chaudeur, who had won in Pra-Loup.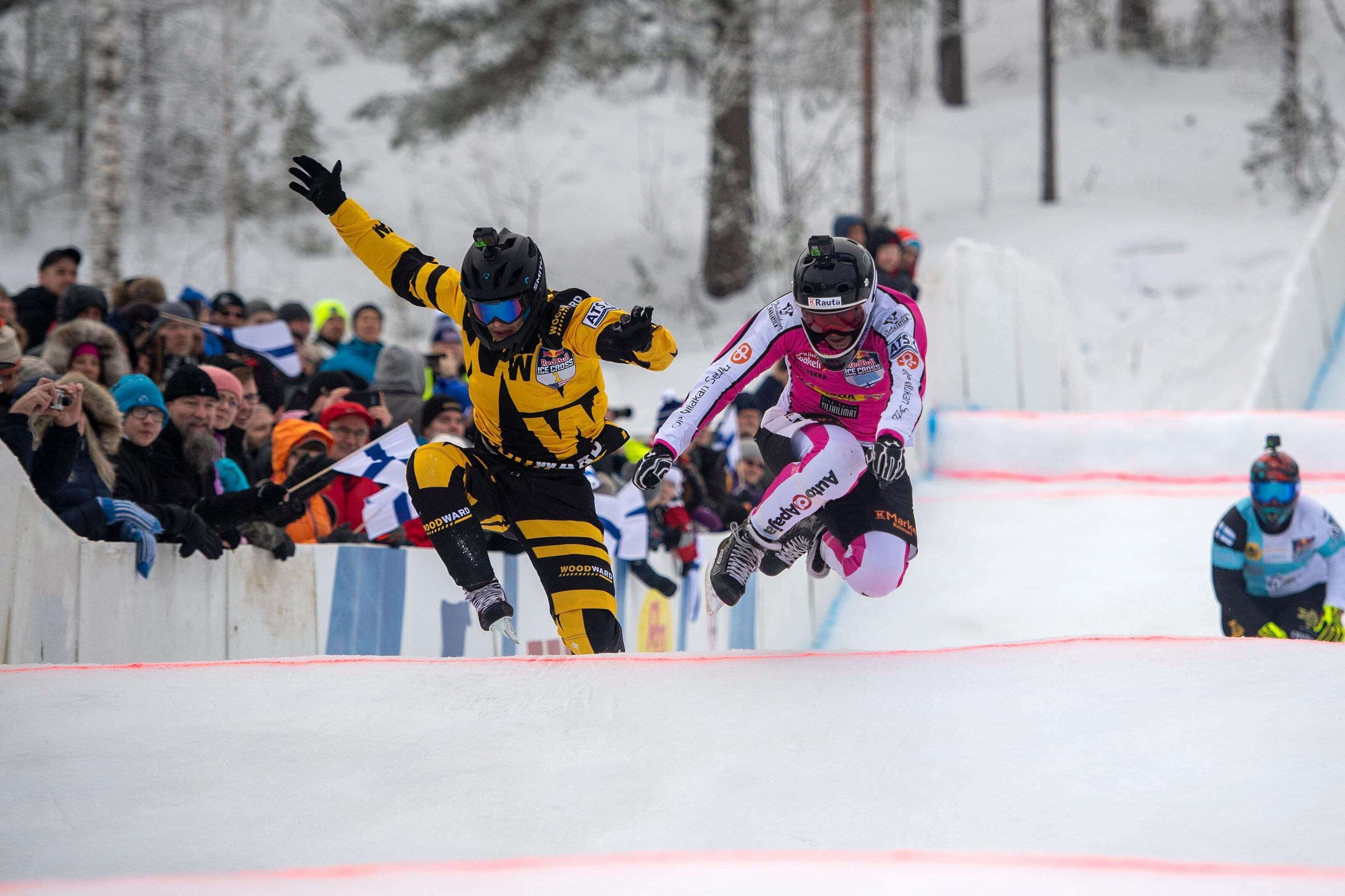 Local favourite Leevi Nakari gave his fans what they wanted to see. © Andreas Schaad / Red Bull Content Pool
Now it's about time for the first major race of the winter, an ATSX 1000 race next Saturday in Yokohama (Japan), followed by two more ATSX 500 races on February 22: a brand new one at Le Massif de Charlevoix, near Québec City (Canada), and a classic one in Igora (Russia), on a superb track close to Saint Petersburg. 
ATSX 500 Rautalampi, February 8, 2020:
Results Men: 1. Marco Dallago (AUT), 2. Kyle Croxall (CAN), 3. Robin Worling (GBR), 4. Luca Dallago (AUT), 5. Vaclav Kosnar (CZE), 6. Jere Lehto (FIN), 7. Dmitriy Murlychkin (RUS),  8. Mirko Lahti (FIN), 9. Antti Tolvanen (FIN), 10. Patrik Merz (SUI).
Women: 1. Jacqueline Legere (CAN), 2. Anaïs Morand (SUI), 3. Veronika Windisch (AUT), 4. Myriam Trepanier (CAN), 5. Amanda Trunzo (USA), 6. Tamara Meuwissen (USA), 7. Justine Zonne (LAT), 8. Malgorzata Synowiec (POL), 9. Miisa Klemola (FIN), 10. Amandine Condroyer (FRA).
Juniors:  1. Leevi Nakari (FIN), 2. Johanny Velasquez (USA), 3. Linus Ollikainen (FIN), 4. Théo Richalet-Chaudeur (FRA), 5. Arthur Richalet-Chaudeur (FRA), 6. Guillaume Libert (FRA), 7. Vladislas Ivanov (RUS), 8. Egor Tutarikov (RUS), 9. Elias Vauhkonen (FIN), 10. Veeti Miskala (FIN).
POV Track Preview
Best Action: Men & Women
Best Action: Juniors
Winning Run Men
Winning Run Women
Best POV Action