Croxall, Trunzo and Velasquez back to winning ways at ATSX500 in Mont-du-Lac
Former World Champion Kyle Croxall (CAN) and reigning World Champion Amanda Trunzo (USA) took their first wins of the season on Saturday in Mont-du-Lac (Wisconsin), at the one and only American date of the Red Bull Ice Cross World Championship. Local supporters also cheered for Jojo Velasquez, the reigning Junior Champion, who also returned to the Ice Cross circuit with a significant win, just like Croxall.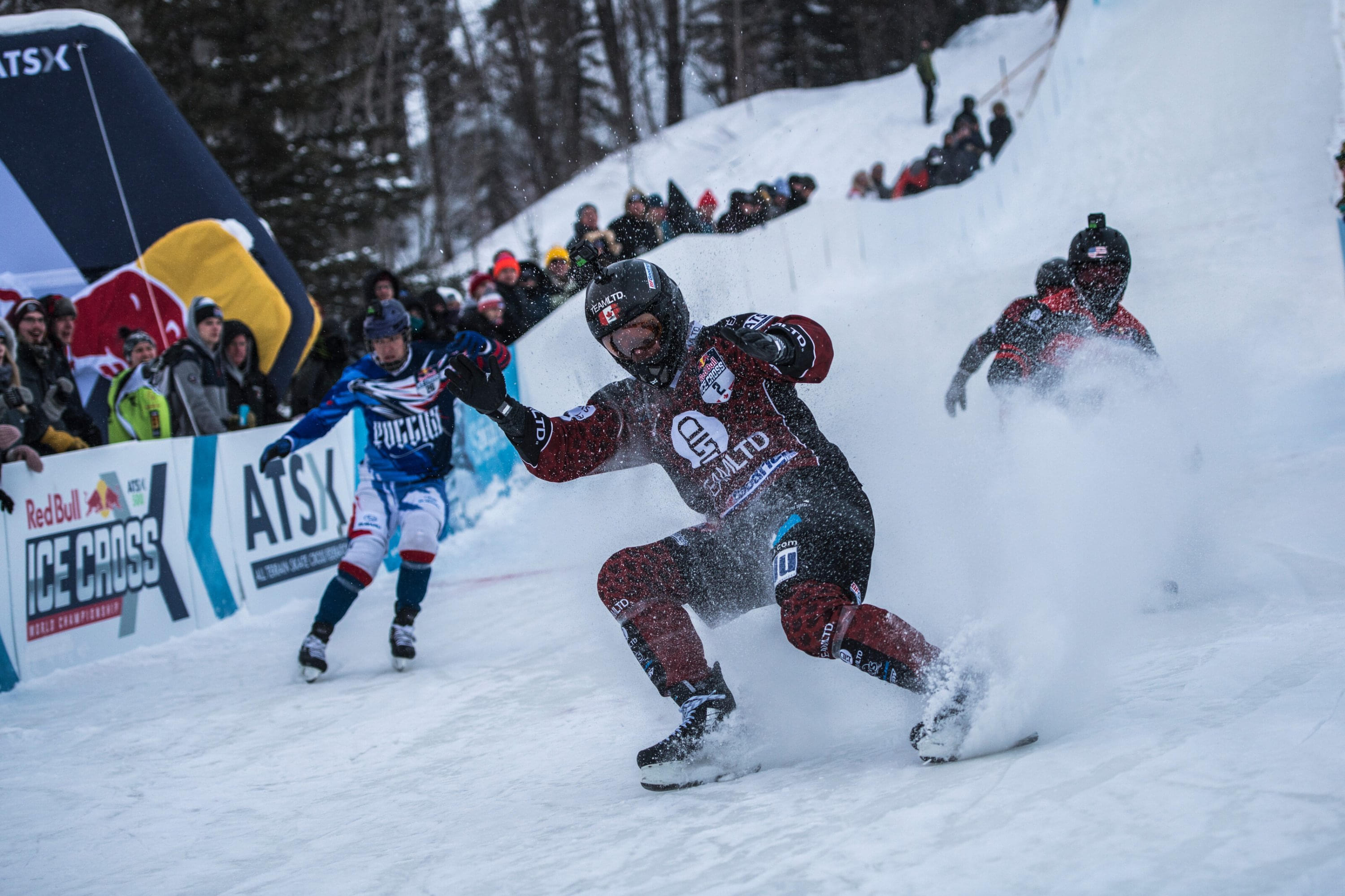 Kyle Croxall celebrates after crossing the line first in the mens final. Image: Sebastian Marko / Red Bull Content Pool
After the melting of the ice in Pra-Loup (Southern Alps), the third stop on the winter calendar was threatened by treacherous conditions: a night blizzard forcing 30 volunteers with shovels to spend a couple of hours clearing the snow on the superb track prepared by the US Ice Cross Association and local organizers at Mont-du-Lac ski resort. But not enough snow to stop the riders, with a majority of Canadians and Americans, entering the final rounds with one common goal:  to beat reigning World Champion Cameron Naasz (USA), the winner in Mont-du-Lac last year and Pra-Loup last week.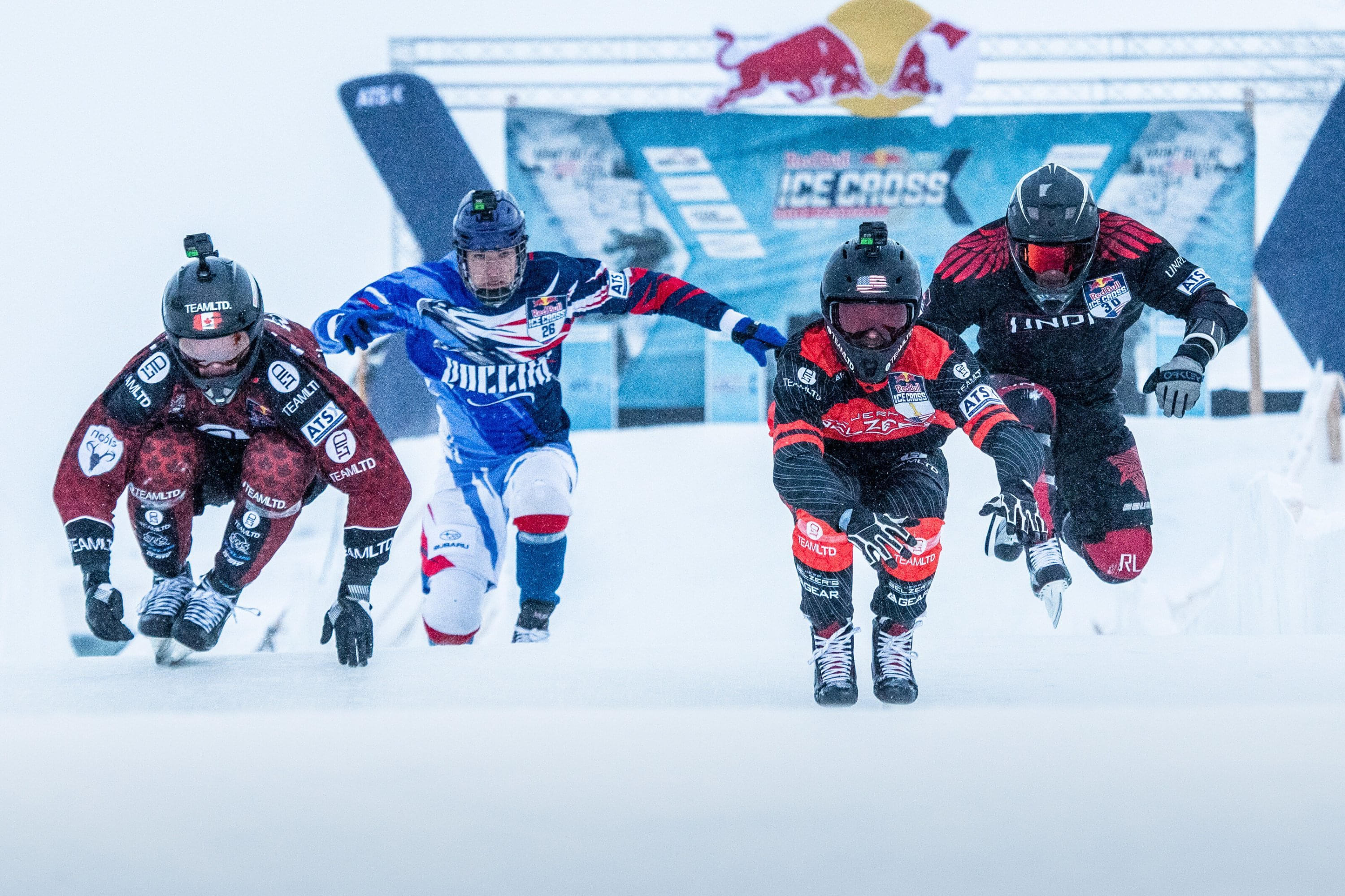 Croxall, Murlychkin , Naasz and Bergeson blast down the track in the mens final. Image: Michai Stetcu / Red Bull Content Pool
In the absence of the Austrian Dallago Brothers, taking a break in their native Europe, dominant Naasz cruised to the final by winning all his heats. However, he had one very serious Canadian customer to beat in his last race of the day: Kyle Croxall, the 2012 Ice Cross World Champion, who had missed the first two races of the season in Judenburg and Pra-Loup. They battled from the start, going down shoulder to shoulder through the turns and kickers. Coming out of the last portion, its steep S-Turn and one last kicker, Croxall reached the finish line first, a few meters ahead of local hero Naasz.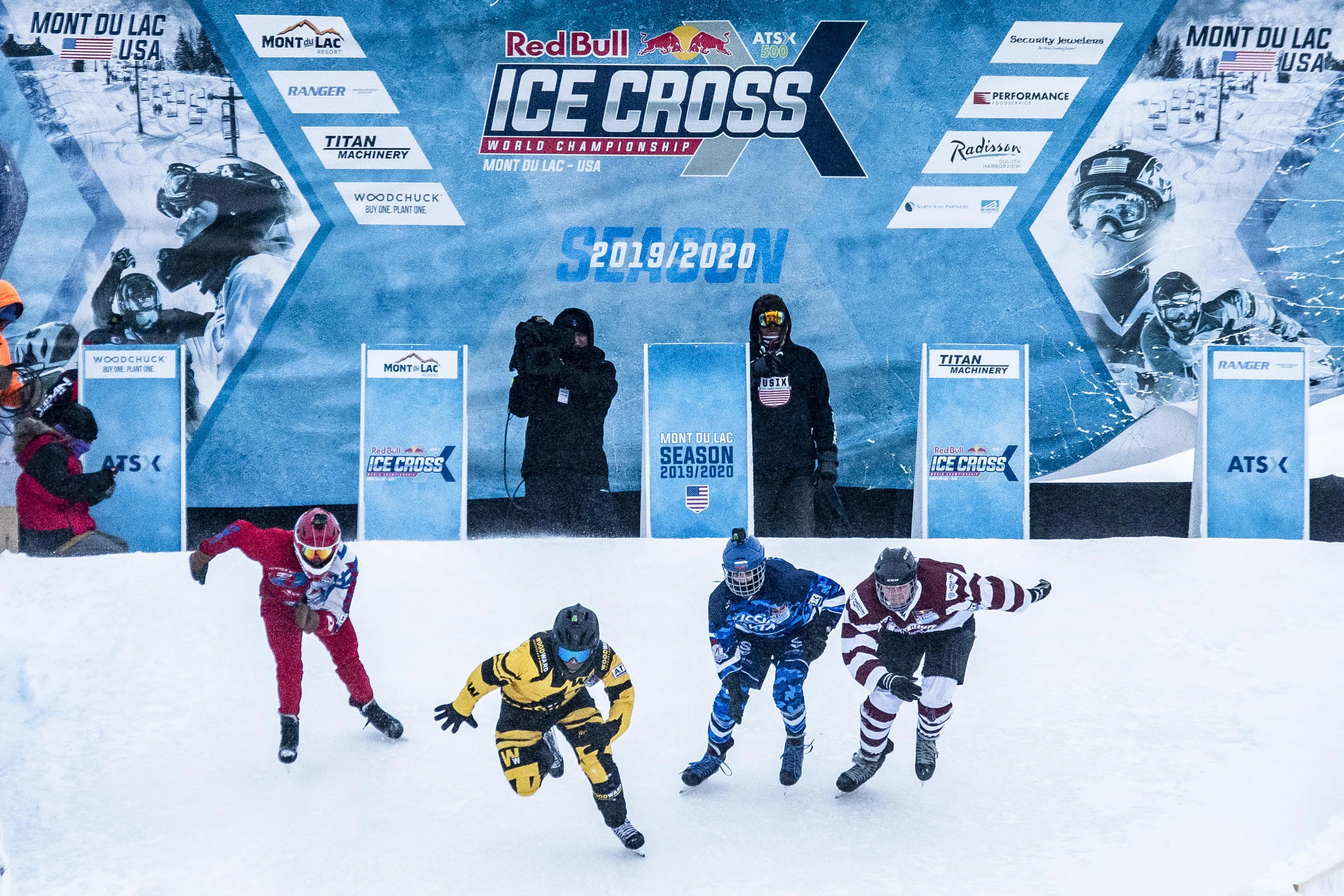 Velasquez got a great start in the junior final. Image: Mihai Stetcu / Red Bull Content Pool
The podium was completed by the best Russian rider around this winter, Dmytriy Murlychkin, who managed to pass Daniel Bergeson (USA) in the last few meters. He is now leading the World Championship, ahead of Naasz and Luca Dallago. Minutes earlier, the small final had turned out to be an all-Canadian affair, with John Fisher beating Shayne Renaud and Gabriel André, followed by Ottawa-based Robin Worling, who still holds a British passport. "It's my first race of the season, a huge race, and I wanted to beat Cam (Naasz) because he beat me in the final last year. It was a close battle and I am very happy", 32-year-old Croxall said after the 10th win of his Ice Cross career. His was the only non-American win of the day, since Trunzo and Velasquez managed to beat all rivals in the Ladies and Junior races.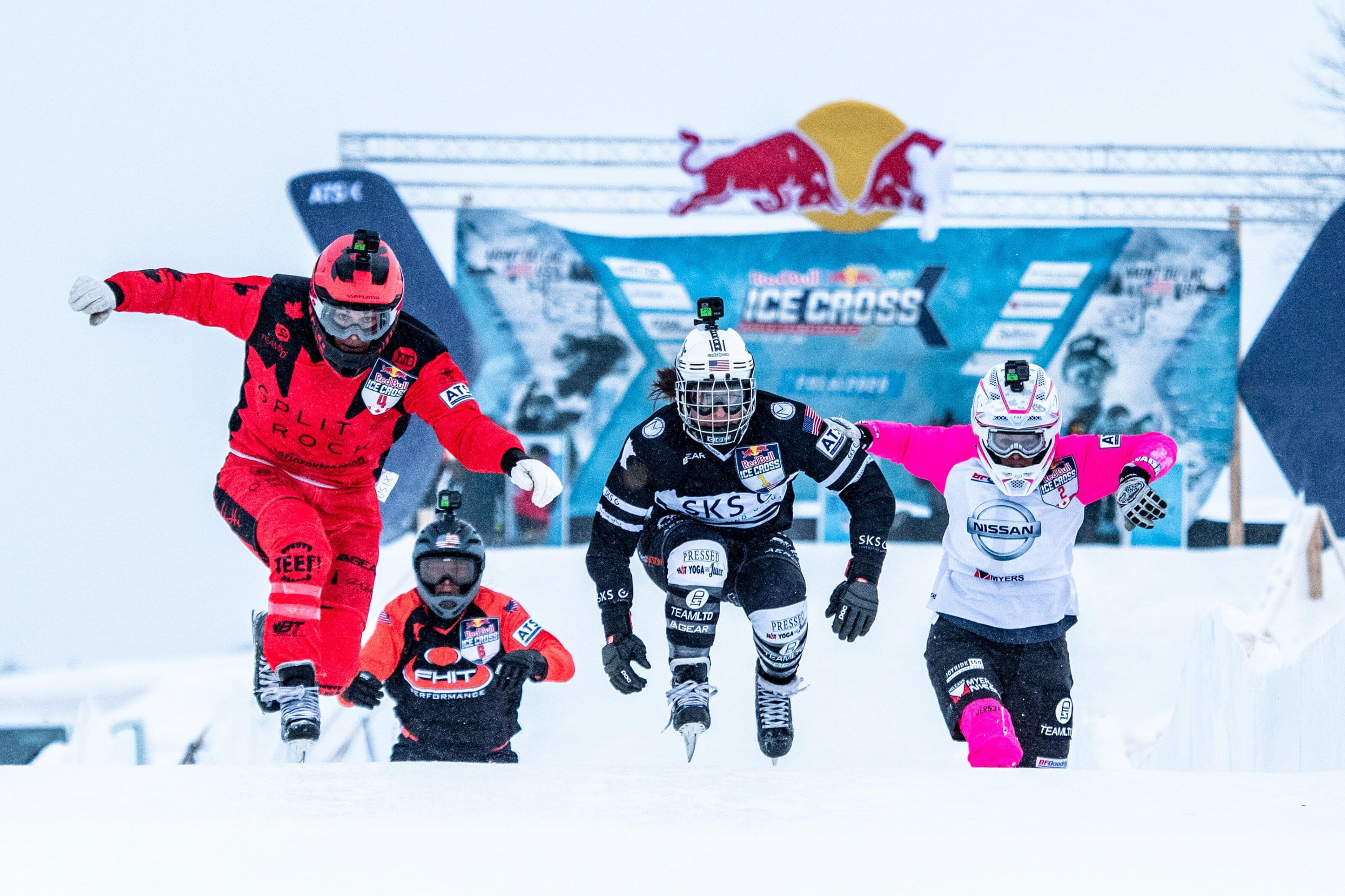 Amanda Trunzo was on a mission in Mont du Lac, grabbing her first win of the season. Image: Mihai Stetcu / Red Bull Content Pool
"I feel really good, it's a big win for me. I have been close in the first races of the season, but for me consistency is the key and hopefully I can maintain this form to the end of the season", Trunzo said after beating two Canadian skaters, Myriam Trepanier (2nd) and Jacqueline Legere (4th) in the final. She is now leading the World Championship after one win and two second places in three races.
"I put in a lot of training in the off season, so I am really glad that I could take this to the track, right away, and win this race on Americain soil", Velasquez summarized after his winning final. And it was a good way to cheer up after an early exit in the Men's event, in the Round of 32, because of an early fall in the same heat as Naasz.
After three ATSX 500 events in a row, the next races are scheduled for early February: two ATSX 250 events in Percé (Canada) and Nagano (Japan), home of the 1998 Winter Olympic Games.
Results Men: 1. Kyle Croxall (CAN), 2. Cameron Naasz (USA), 3. Dmytriy Murlychkin (RUS), 4. Daniel Bergeson (USA), 5. John Fisher (CAN), 6. Shayne Renaud (CAN), 7. Gabriel André (CAN), 8. Robin Worling (GBR), 9. Kale Johnstone (USA), 10.Daniel Guolla (CAN). 
Women: 1. Amanda Trunzo (USA), 2. Myriam Trepanier (CAN), 3. Tamara Meuwissen (USA), 4. Jacqueline Legere (CAN), 5. Samantha Meuwissen (USA), 6. Junko Yamamoto (JPN), 7. Bianca Lott (USA), 8. Michelle Mulder (CAN), 9. Michelle Jeurissen (USA),10. Jennifer Wolfe (USA)
Juniors: 1. Jojo Velasquez (USA), 2. Andrew Worling (GBR), 3. Egor Tutarikov (RUS), 4. Eli Schaffer (USA), 5. Skyler Diamond-Burchuk (CAN), 6. Jack Lillestol (USA), 7. Rifat Nassyrov (KAZ), 8. Bianca Lott (USA), 9. Russell Moretton (USA), 10. Tim Dixon (USA). 
Best Action Men & Women
Best Action Juniors
Winning Run Men
Winning Run Women
Winning Run Juniors
For more pictures and videos available for download and free for editorial use, visit www.redbullicecrossnewsroom.com.
The ATSX 1000 races are broadcasted live on Red Bull TV (outside of North America). Red Bull TV is available on connected TVs, gaming consoles, mobile devices and more. For a full list of supported devices, visit this page.