Yokohama ATSX 1000: British Brothers ready to rule Tokyo Bay
Robin and Andrew Worling, two British skaters with an attitude, are ready to battle for every square-foot of ice this Saturday in Yokohama challenging for the first ATSX 1000 race of the year. With two consecutive podiums for Andrew in Juniors, followed by Robin's first ever podium in the men`s division, the Dallago and Croxall Brothers reign as the top siblings in the sport could be under threat…
Family stories are part of the DNA of global Ice Cross racing, thanks also to the Meuwissen or Klemola Sisters. Here in Yokohama, Scott Croxall is coming back to the Red Bull Ice Cross World Championship, for a one-off race with his brother Kyle, while another exciting family story is brewing this winter thanks to the emergence of Théo and Arthur Richalet-Chaudeur from France. Théo however will not be in Japan this weekend due to important exams to pass in Strasbourg, at his Engineering school.
Last Saturday in Rautalampi (Finland), 23-year old Robin Worling was beaten in the final of the ATSX 500 race by two former World Champions, Marco Dallago and Kyle Croxall. This was his best result ever, on a continuing upward trajectory. He knows why he started slow this season, twenty-sixth in Judenburg and thirtieth in Pra-Loup: "I worked so much to prepare that I put a lot of pressure on my shoulders. Now, since Mont-du-Lac, I feel much better". After an eighth place in Wisconsin, he finished sixth in Percé (Québec), then third in Finland.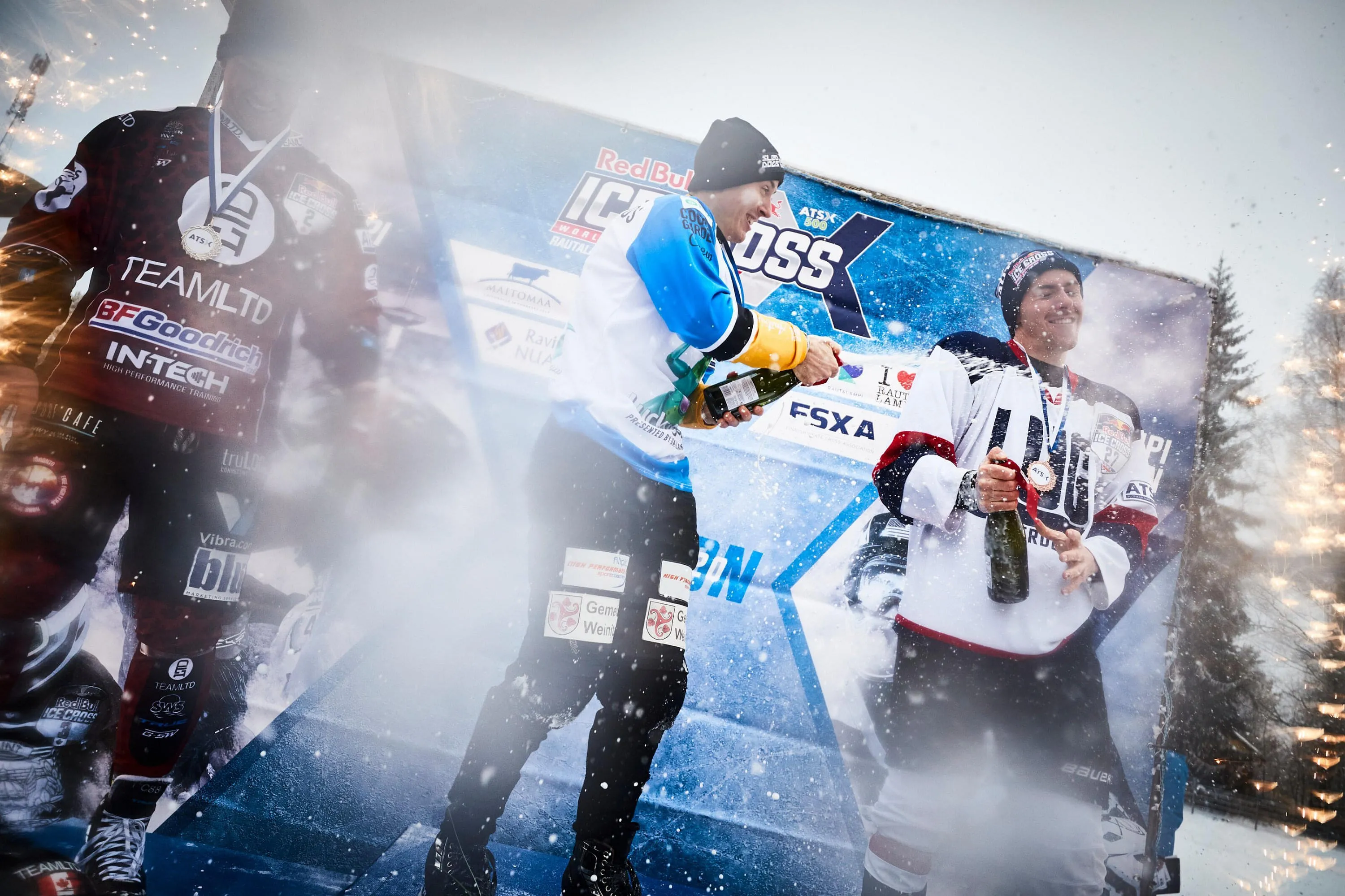 Robin came third in Finland last weekend, his best result yet. Image: Andreas Langreiter / Red Bull Content Pool
Robin started Ice Cross three years ago in Ottawa, his native city, thanks to an invitation for the Junior race. He was 20 at the time and finished seventeenth, instantly becoming hooked on the sport. He became the first ever British extreme skater, thanks to his passport and father, who emigrated from Hayward's Heath (West Sussex) to work in Canada.  He recently graduated Queen's College in Kingston, Ontario, with degrees in Economics and Computer Science, but his passion remains on ice, although he is also a tennis instructor and an expert skier. Next week, he will test Japanese snow in Hakuba, "the best spot in the world for powder", he says. And he will go with Andrew, of course, before rushing back to Québec for the new Charlevoix ATSX 500 race.
The search for a permanent job "had to be postponed", Robin smiles again, and he is fully committed to the sport and training. It has already payed dividends with a sixth place in the World Championship after Rautalampi. He has also convinced Andrew, 21, to travel with him and compete in the Junior`s division. There again, the investment pays off quickly.
 "I have skated all my life", says Andrew. "I played hockey in high school for years. I followed Robin during the past three years and I considered it was way too much fun, so I decided to join two weeks before Judenburg". Andrew has a huge smile on his face when he tells about his last training session at a local skate park, with rollers, before going to Austria: "I had a couple of big falls, but I felt ready, I could not wait. We had a blast". He finished tenth in Judenburg, for his first ever  Ice Cross race, then second in Mont-du-Lac and second again in Percé.
This is enough to be one of the clear favourites to win in Yokohama, come Saturday. But Andrew will have to beat Jojo Velasquez, Leevi Nakari and Egor Tutarikov, as well as Arthur Richalet-Chaudeur, from France. Talk about DNA. Just as Robin motivated Andrew, Théo suggested that brother Arthur should follow his tracks, and it worked: Arthur and Théo finished second and third in Judenburg, behind Tutarikov, then first and third in Pra-Loup, their home race. Théo started Ice Cross in Marseilles in 2017, the same year as Robin, and turned 20 last week. He is a regular Top 10 finisher in Juniors. Arthur is catching up, slowly but surely, just like Andrew, and leads the Junior table thanks to two podiums and a fifth place in Rautalampi last Saturday. This week marks another step for him: he started Ice Cross here in Yokohama, 14 months ago, and he will turn 18 next week.  Time for celebrations!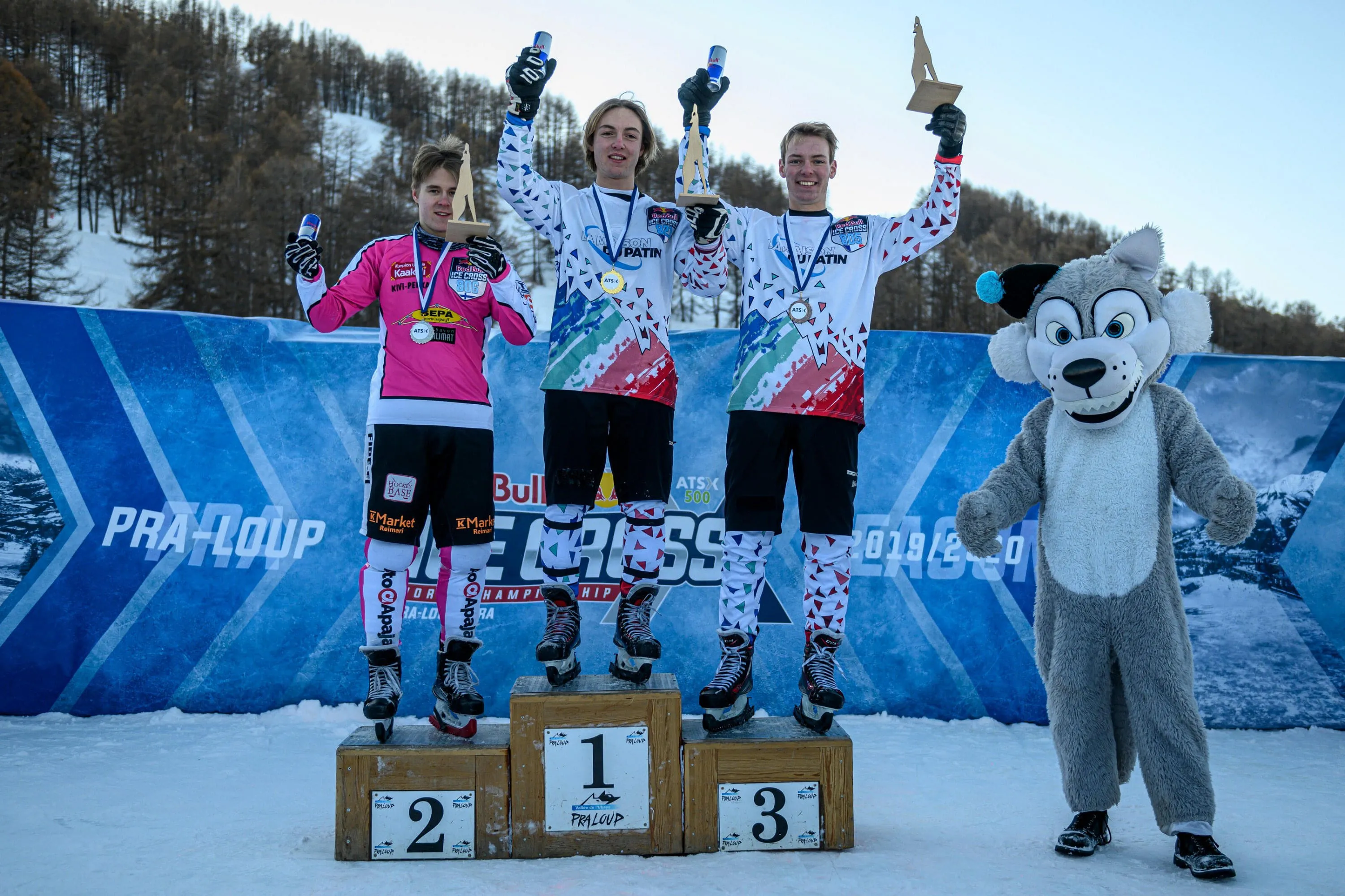 Brothers Arthur (middle) and Theo Richalet-Chaudeur (right) stood on the podium in Pra-Loup earlier this season. Image: Joerg Mitter / Red Bull Content Pool