The Battle Heats Up - Only a Few Candidates Left For World Glory!
There are four races left in the Red Bull Ice Cross World Championship and the situation is tighter than ever. The ATSX 500 race in Le Massif, this Saturday, will be a turning point in the fight for the world titles - Men, Women and Juniors - involving very talented riders.
Cameron Naasz (USA) is returning to Canada this week, after his memorable win in Yokohama (Japan) on Saturday, to face his favourite rivals, local hero Kyle Croxall (Canada) and the Dallago Brothers, Luca and Marco from Austria, in what will be the second ATSX race in Québec this winter. On the Ladies front, Maxie Planté (Canada), the surprise winner in Yokohama, will try to confirm that she can now be a permanent threat for fellow Canadian Jacqueline Legere and both her arch-rivals Amanda Trunzo (USA) and Anaïs Morand (SUI).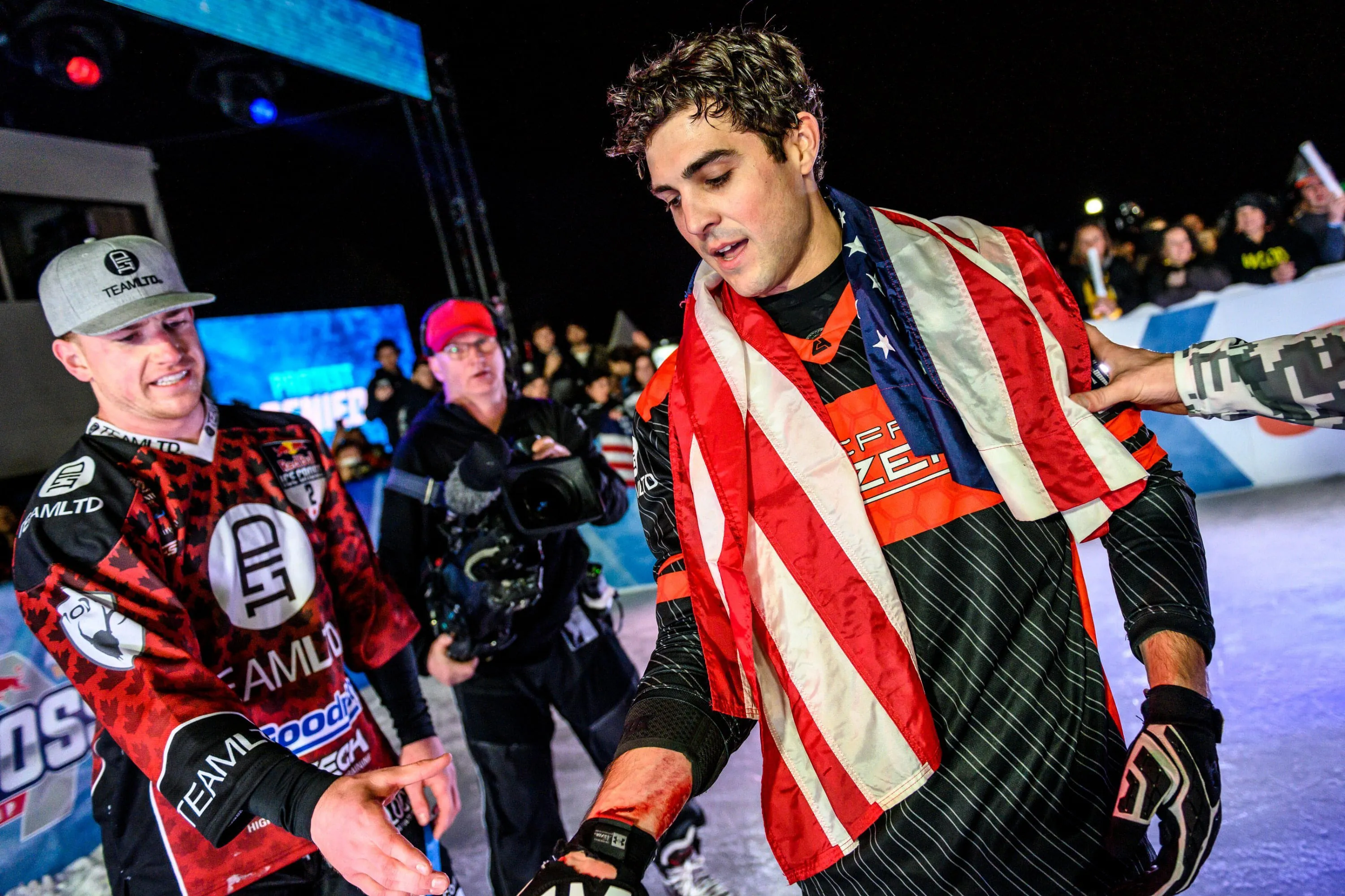 Cameron Naasz (USA) draped himself in the American flag in celebration of his Yokohama ATSX 1000 victory. © Joerg Mitter / Red Bull Content Pool
Naasz has won the ATSX 250 race in Percé, further north in Québec, on February 1st. After Yokohama, he is back in the lead of the World Championship and wants to take more points before the season ends with two races in Russia, especially the grand finale in Moscow where "anything can happen" on the brand-new permanent track at Patriot Park on March 21. The 30-year-old from Minnesota remains the man to beat.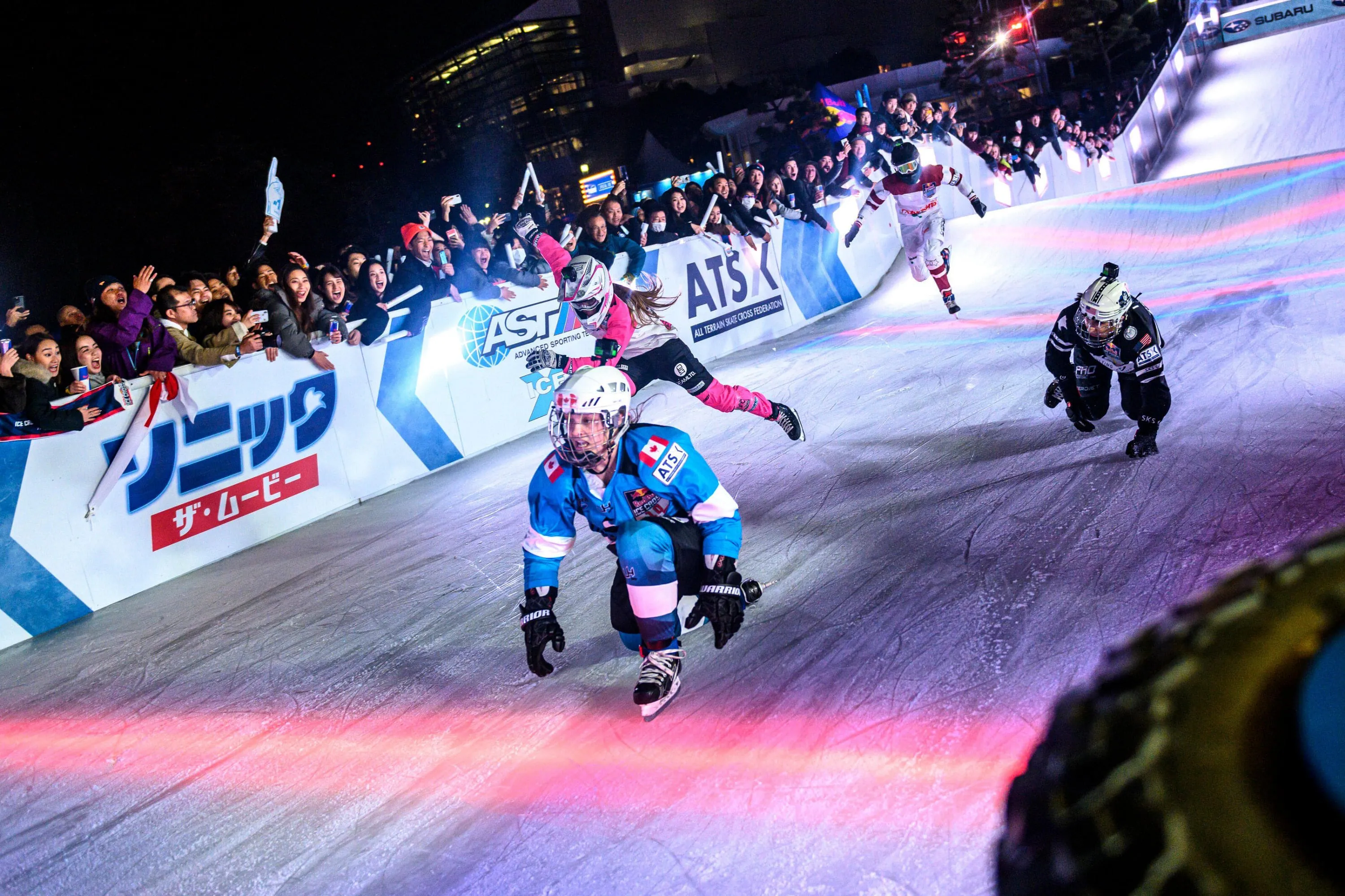 Maxie Plante (CAN) beat Amanda Trunzo (USA), Jacqueline Legere (CAN) and Justine Zonne (LAT) in the Yokohama ATSX final. © Joerg Mitter / Red Bull Content Pool
The first six wins of the season are split between three riders: Naasz (3), Marco Dallago (2) and Kyle Croxall (1). They will all be at Le Massif de Charlevoix on Saturday, as well as Luca Dallago who lost big in Japan after being pushed by Scott Croxall who was then disqualified by the video judge. But the youngest of the Dallago Brothers is still in the chase for a first ever World Championship title: he only trails Naasz by 300 points and 500 will be available on Saturday, on a superb track prepared by former rider Chris Papillon, now the Sport Director at ATSX.
A big surprise can also be on the cards thanks to Dmitriy Murlychkin, the best Russian rider this winter, who still holds 5th place in the Championship, despite a disappointing 10th finish in Yokohama. And the Fast Finns will surely be ready to battle as well, especially Leevi Nakari (19) who just won twice in a row in the Junior category (Rautalampi, Yokohama) and Mirko Lahti (23), the former double Junior World Champion, who still waits for his first win in the Men category after 7 wins and two consecutive world titles as a Junior.  
Talking of Juniors, the fight between Nakari and the reigning Junior World Champion, American Jo-jo Velasquez, will also be worth the trip. Jo-Jo was disappointed to be disqualified in Yokohama, since his light push on Frenchman Arthur Richalet-Chaudeur was probably not intentional, in the heat of the battle. Arthur will not be in Le Massif de Charlevoix, so another rider will have a chance to climb on the podium with Nakari and Velasquez, who are the clear favourites on paper. For the win… and for the title in Moscow.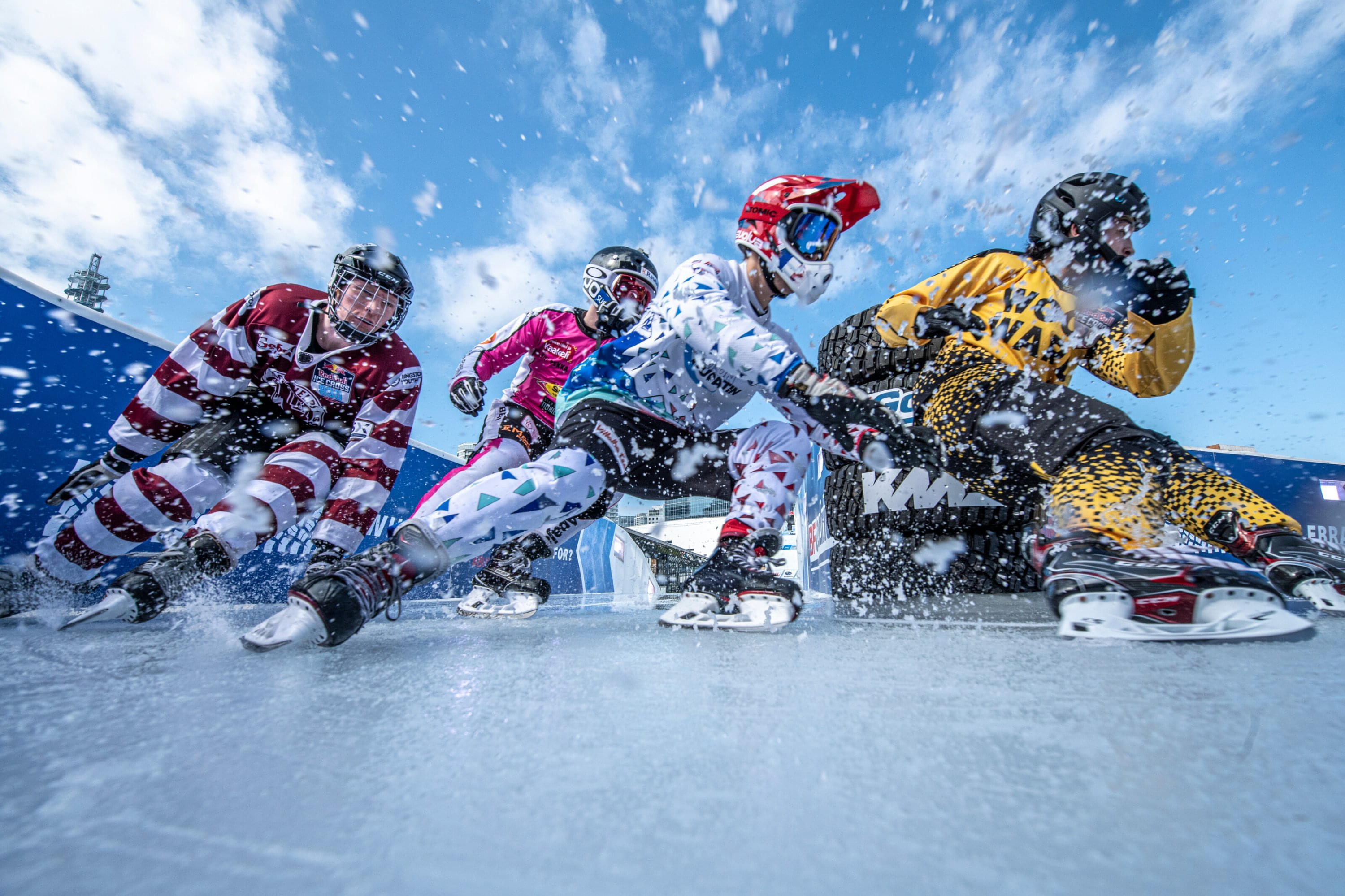 The Juniors are flying this year, it looks like the race for the championship will be run by JoJo Velasquez (USA), Leevi Nakari (FIN), Egor Tutarikov (RUS) and Arthur Richalet-Chaudeur (FRA). © Mihai Stetcu / Red Bull Content Pool
Last but not least, the World Championship calendar has been amended again and the other ATSX 500 race scheduled in Igora for next Saturday has been postponed, due to warm temperatures, to March 7. For this reason, the ATSX 250 race which was also scheduled for March 7, in Ekaterinburg, is cancelled.
Watch the ATSX 500 race in Le Massif de Charlevoix live on Red Bull TV (outside US) at 2pm local time, 8pm CET on Saturday February 22nd. Red Bull TV is available on connected TVs, gaming consoles, mobile devices and more. For a full list of supported devices, visit this page.